Tucker Carlson was interviewing some blow-dried Ken-doll wannabe congresspunk from California last night and this clown would not stray from his talking points no matter what Carlson asked him. Thankfully, the network panned to a shot of the daily protests outside the Supreme Court.
I may be the only person in America who noticed some idiot holding a pre-printed sign that had the word "OPPOSE" at the top with a blank white space underneath it. After Trump made his nomination known, they printed "GORSUCH" in the blank space with a Sharpie. They were prepared to protest whoever the president picked, even if it was the Wizard of Oz.
As with their shameless behavior regarding the Cabinet nominees, they are going to fight this appointment tooth and nail. In the end they will likely lose, although it is a case of one originalist replacing another. The all-out war will occur if one of the leftists, probably the Notorious RBG retires from the bench. She has already stated she's not going anywhere until there is a Democrat president to replace her.
Think: The Dems wheeling the late and unlamented Robert C. Byrd on a hospital gurney for an important vote, or Tim Johnson who suffered a brain aneurism and was absent for almost two years and never replaced, since he represented North Dakota, which would have elected a Republican in his stead.
They're playing a dangerous and potentially disastrous game. Tingles Matthews claimed that not a single Democrat senator will vote to confirm. I disagree. There are 12 senators from red states up for re-election in 2018. The playbook says there will be 5 or 6 democrats who will be given permission to confirm as long as there are not the requisite 60 votes to uphold the filibuster. They all sing from the same hymnal: 'Lord, save my ass.'
[CtH: I am still puzzling over why RBG didn't retire when Obama was in office.  She's older than dirt and is unlikely to survive the 8 years Trump could be in office.  Probably she, like the rest of the Ds, thought Hillary was a shoe-in.  Oops!  Cuz replacing Scalia with Gorsuch is no biggie.  Replacing Ginsburg with someone the Republicans like will tip the bench back toward traditional values and put Roe v. Wade seriously at risk.  We can pray!]
Chris Matthews: Gorsuch Vote Will Go To A Filibuster; Democrats Will Not Vote For Him, "Not A One"
"I think this is going to come down to a sad denouement," Matthews said Tuesday night. "I think it's going to take 60 votes to get this approved and I think the Republicans will have their rank-and-file 52 votes will be there. But I don't think the Democrats are going to give them a single vote which mean this will go to a filibuster."
[CtH: Why is Tingles still talking?]
Chris Matthews on Democrats who vote for Gorsuch:  He will "be on that court for 30 years … they will have to answer for this guy."
And since, according to Matthews, no Dems will vote to confirm, the nomination will fall short of the required 60 votes.
This Insurrectionist disagrees. No matter how much McConnell reveres Senate tradition, he will not let such a qualified jurist, and Trump's first Court nominee, go down to ignominious defeat. If push comes to shove, I predict that McConnell will invoke the nuclear option, and Gorsuch will be confirmed on a simple-majority vote.
IOW, THE DEMOCRATS MUST CHOOSE WHAT HILL THEY WANT TO DIE ON
Here's Why It Would Be Very Stupid for Dems to Block Neil Gorsuch

Since January 20, many Americans have been daydreaming about the possibility of rebuilding the government from the ground up, like an episode of Designated Survivor. But as fun as it would be to watch Democrats tantrum their way into blocking Judge Neil Gorsuch's Supreme Court nomination, it's a bad idea and would follow in the Republicans' dangerous precedent.
Dems to Filibuster SCOTUS Pick, Claim Seat 'Stolen': "We will use every lever in our power to stop this."

Senator Merkley declared the seat could go to none of Trump's picks because it was "stolen," presumably by the Russians.
"This is a stolen seat. This is the first time a Senate majority has stolen a seat," Merkley said in an interview. "We will use every lever in our power to stop this."
Neil Gorsuch: Conservatives Praise Trump's 'Home Run' Supreme Court Pick


GORSUCH MEETS WITH SCALIA'S WIDOW AND HIS SON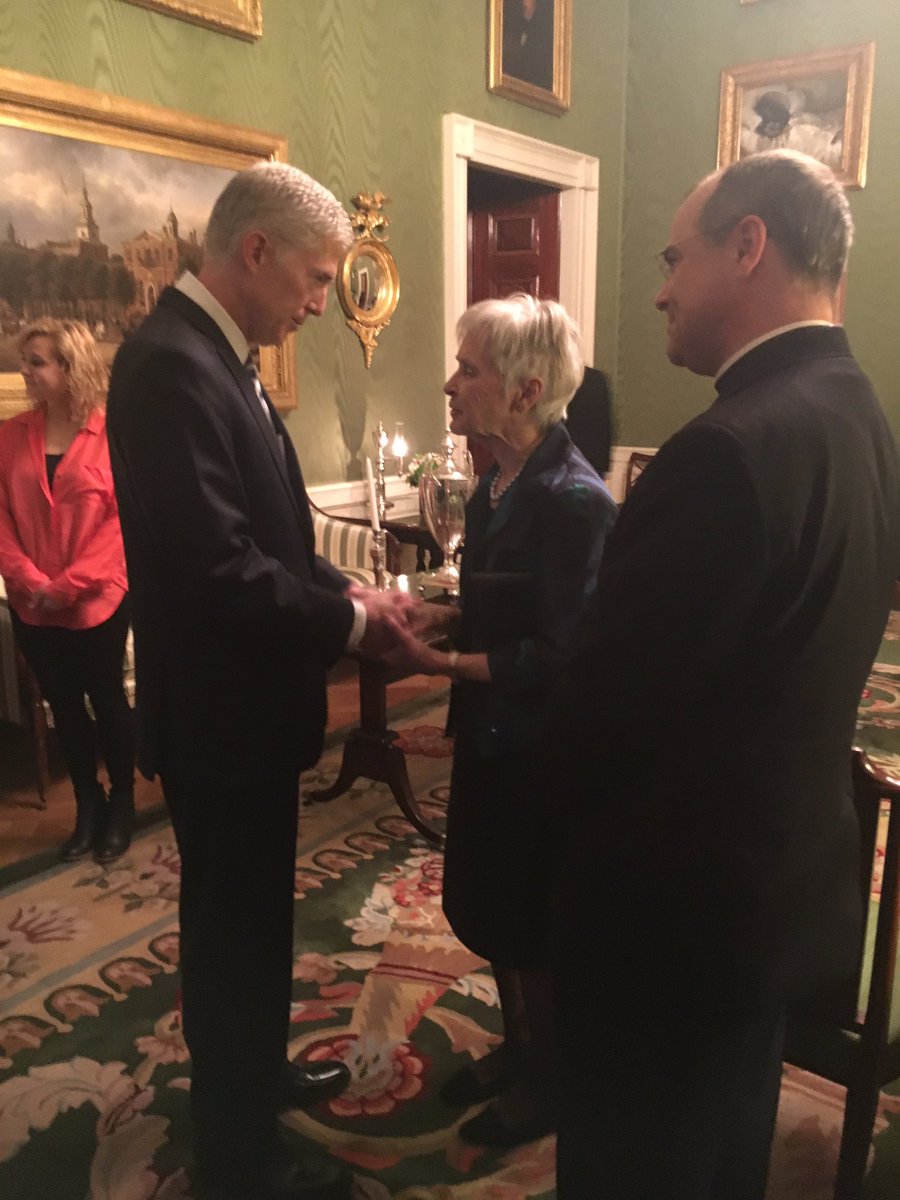 Conservatives were effusive in their praise on Tuesday evening for President Donald Trump's choice for the U.S. Supreme Court, Neil Gorsuch.
Protesters Arrested In NYC Demonstration Against Trump Supreme Court Pick

WONDER HOW LONG BEFORE THEY DECLARE THIS AGGRIEVED VICTIM WILL BE LABELED A 'CIVIL RIGHTS ICON'?
[CtH: Where do they get these people who have TIME to go to all these protests?!]
Among those arrested was Gwen Carr, the mother of Eric Garner – the man who died on July 2014 on Staten Island as police tried to arrest him for selling loose, untaxed cigarettes. A grand jury later declined to indict NYPD Officer Daniel Pantaleo, who used a takedown move on Garner that many have described as a chokehold.
THIS WAS FROM YESTERDAY:
Once Again, Dems Deny Vote on Sessions… Where is GOP Leadership?

The Senate Judiciary Committee, once again, delayed voting Tuesday morning on the nomination of Sen. Jeff Sessions for attorney general, pushing it back to Wednesday.
Therefore, the people of the United States remain without the proper attorney general, causing confusion and misdirection in the branch of government that ultimately provides safety and security to the American way of life.
BREAKING NEWS! PETE BRINGS YOU THE LATEST. THIS IS GREAT!!!
GOP changes Senate rules, approves Trump cabinet picks

A Democratic boycott couldn't prevent President Trump's cabinet picks for Treasury and health from gaining approval by the Senate Finance Committee.
The Republican-led committee changed its rules to allow it to operate without the boycotting Democrats and approve Steve Mnuchin for the Treasury post and Tom Price as Health and Human Services secretary.
The next step will be for the pair to be confirmed by the entire Senate.
THE REPUBLICANS MAY HAVE FINALLY GROWN A PAIR!
NOW I HAVE TO MISS SOME OF MY OLD WESTERN TV SHOWS TO WATCH FOX ….. JUST DAMN.