We don't complicate anything.
So today a crowd of menopausal harpies gathered to vent their obvious sexual frustrations at a man who has hardly done anything yet, except shatter their fantasy of having a vagina ruling the country. They were accompanied by some sissy men who ventured out of their parents' basements hoping, with all those females, that they might score a date. There were similar protests being held all over the nation, meaning that somebody is making big bucks selling batteries for marital aids. Just sayin'.
Hundreds of thousands stream into DC for Women's March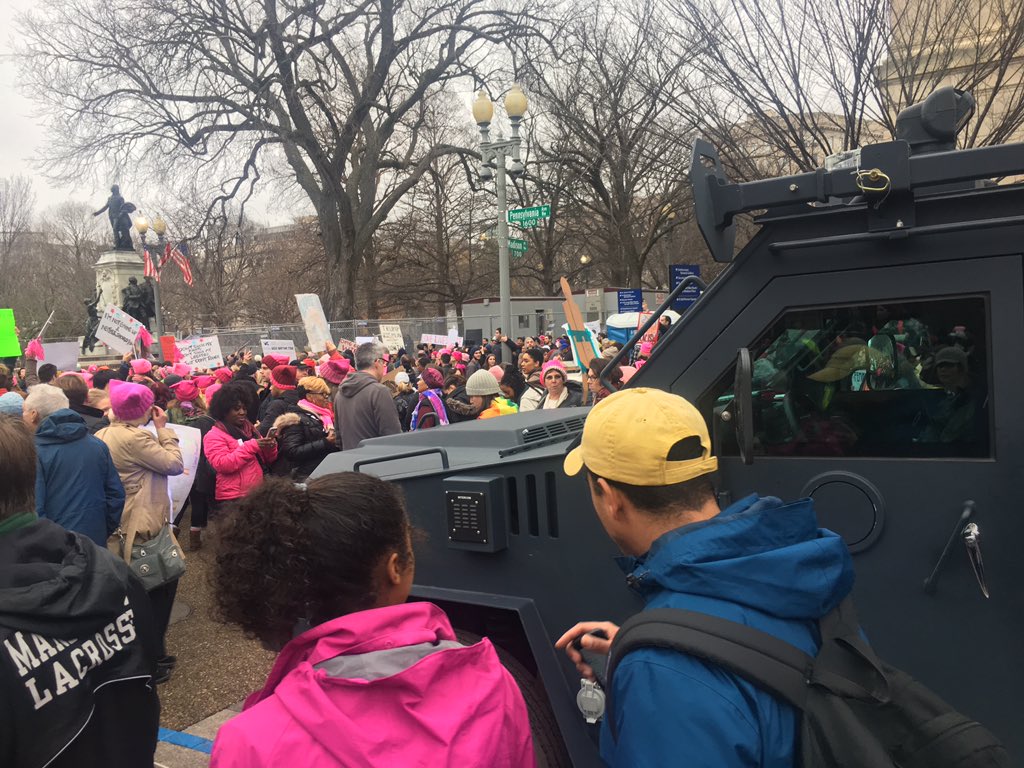 "I think everybody felt disappointed, I think we thought things were going in a different direction. And I think also to connect with like-minded people so that we can make sure that if there are threats to our freedoms that we can stand together."
Pro-Life Youth Crash Pro-Abortion Women's March

Only pro-abortion women were allowed to partner with the so-called "Women's March" in Washington, but the president of America's largest organization of pro-life youth decided to crash the march anyway with her group's own message about abortion and women.
As Women Take To The Streets To Protest Trump, Hillary Clinton Tweets Words Of Support

Organizers say the Women's March on Washington was intentionally scheduled for one day after the presidential inauguration with the aim of sending a message to the newly minted administration: Women's rights are human rights.
The Queen Bee: Michael Moore Leads The Women's March In Washington D.C.
THIS FAT BASTARD HASN'T HAD A STEADY JOB SINCE HE WAS JABBA THE HUTT'S BODY DOUBLE
Moore goes on reading the paper "'New President vows to end American carnage.' Mr. Trump we are here to vow to end the Trump carnage."
No that was not a typo, Michael Moore actually said that the Women's March has gathered to end the carnage from Donald Trump while speaking at a heavily pro-abortion abortion event.
Exactly what carnage has Mr. Trump caused? Michael Moore gives no examples because there are none.
THIS VIDEO IS 16 MINUTES. I COULDN'T SURVIVE TWO.
Byron York: Scenes from a pussy riot

Ashley Judd Insane Rant Against Trump, Claims Ivanka Is His "Sex Symbol"
Madonna Threatens To Blow Up White House; Drops Multiple F-Bombs On Live TV!
THIS IS THE OVERPAID WHORE WHO OFFERED LEWINSKYS FOR ANYBODY VOTING FOR HILLARY
Anti-Trump Women Marchers Threaten to Never Leave Washington, DC

WHAT A GREAT IDEA!! WE CAN DEPORT ALL THE ILLEGALS AND HAVE THESE SHREWS WASH DISHES, BUS TABLES, MOW LAWNS AND PICK PRODUCE …. THAT'LL WORK!
"We won't go away, welcome to your first day," women marchers chanted near the White House.
It's ironic that they're threatening to never leave, since many of the protesters are actually leaving tomorrow or the next day after having been bused in from around the country and even from Canada.
ADDED by CtH:
"Oh, if I could but live another century and see the fruition of all the work for women! There is so much yet to be done." -Susan B. Anthony
I'm thinking she should be glad she did not live to see what feminism has become.
http://twitchy.com/brettt-3136/2017/01/21/out-new-yorks-wall-of-subway-therapy-post-its-in-womens-marchs-wall-of-maxi-pads/