I'm going to make a wild prediction:
Fox News will crush CBSNBSABCCNNMSNBCPBSCNBC. I may be wrong. I was wrong the last time I made such a prognostication. Terribly wrong. And absolutely never happier to be so. Had my prediction of Mme. Pantsuit gotten elected, I wouldn't be sitting here doing this.
For those into industrial strength schadenfreude, turn on CNN or MSDNC for awhile and watch the bubbling cauldrons of bile being forced down by people on the verge of dementia. Drink deep their tears and be refreshed.
Watch Elizabeth Warren Refuse to Shake Education Nominee Betsy DeVos' Hand
Sen. Elizabeth Warren (D., Mass.) refused to shake the hand of Betsy DeVos, President-elect Donald Trump's nominee to head the Department of Education, following a contentious Senate confirmation hearing on Tuesday.
[CtH: What a BITCH!]
[CtH: I guess she would know!]
At Final Briefing, Obama Remarks on Transition, Israel, and Post-Presidency

Watch the 'Sycophantic' W.H. Press Corps Shower Obama with Adulation in Final Presser
'It's been an honor'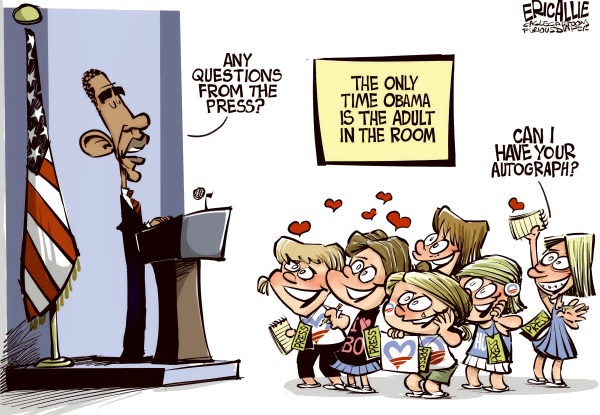 President Obama began his final press conference on a surprising note. Despite "not liking all of the stories you've filed," he told the gathered White House press corps that it's your duty to ask "tough questions" and not be "sycophants."
Too bad reporters were apparently not paying attention.
What followed was one softball after another, with rhetorical foot massages sandwiched between.
"Thank you, Mr. President," each reporter began.
"It's been an honor," said another, before literally making the "call me" expression while pointing at her cellphone.
[CtH: GAG ME!!]
A reporter for The Blade, Chris Johnson, used his opportunity to ask the president a question to instead list a series of LGBT "accomplishments" Obama enjoyed during his tenure — before setting the president up to attack Trump.
Obama uses his final press conference to issue extraordinary warning to Trump that he will step in if he 'rounds up' children for deportation, hits voting rights or 'silences dissent'

In his final press conference, Obama brought up contentions issues for the U.S. citizenry, and pointedly told Trump he would speak up if his successor strayed far from current policy on rights issues.
He mentioned 'systematic discrimination' and efforts to 'punish' immigrants who came here as children.
He praised the press for making 'this place work better' in another signal to Trump, who has attacked networks and news outlets.
Invokes Jim Crow efforts to 'restrict the franchise' and prioritizes voting rights amid looming fight with the GOP over voter ID laws.
[CtH: Ignores HISTORICAL FACT that DEMOCRATS were responsible for Jim Crow laws.]