The event took place last Saturday. I saw an article at Breitbart about needing donations and volunteers to lay wreaths at all 240,000 graves at Arlington National Cemetery. As I dug a little deeper, I found that many such ceremonies were taking place all across the nation. Just thought you might be interested in what Americans of faith can do when they get together to show their appreciation for all those who bought and paid for the freedom we all enjoy.
Later Saturday, Congress officially proclaimed Dec. 13 as "Wreaths Across America Day" soon after the two-millionth wreath laid nationwide was placed in honor of U.S. Army Private William Christman, the very first soldier to be buried at Arlington National Cemetery in May 1864.
Wreaths Across America Donations needed to honor veterans
Americans will never let us down

Wreaths Across America reaches goal for Arlington National Cemetery
ARLINGTON, Va. – Two weeks ago, Wreaths Across America still needed over 100,000 wreaths to be able to cover all veterans headstones at the Arlington National Cemetery. By Wednesday though they made a huge comeback, reaching their goal of donations needed to purchase the remaining wreaths.
The mission of Wreaths Across America and its thousands of volunteers is to remember those who fought for our freedom during the holidays.
This is the 25th year, and at Arlington National Cemetery this Saturday, December 17, once again many will gather to lay a wreath at each grave. Most years the wreath laying attracts 40,000-50,000 people, but in fact last year when it was 65 degrees and beautiful outside a larger group of 70,000 people showed up.
The parking lot opens at 8 a.m., and then 245,000 wreaths will be brought in to the cemetery, 65 tractor trailers will be parked in different locations throughout the cemetery and starting at 10 a.m. volunteers will spread out to start to lay them on the graves.
Gold Star Dad Remembers Son, Helps Organize the Laying of 10,800 Wreaths at Golden Gate National Cemetery

J. Kevin Graves helps unload 10,800 wreaths ahead of Golden Gate National Cemetery's largest Wreaths Across America observance in San Bruno. (December 16, 2016)
This year, the Avenue of Flags Committee in support of the Golden Gate National Cemetary was able to reach 10,800 wreaths, making it the largest Wreaths Across America observance the cemetery has held.
J. Kevin Graves, a Gold Star father who lost his son in Baghdad, said that the Walmart Foundation committed a significant amount to the number of wreaths this year.
Wreaths Across America decorates veterans' graves in Seattle

The special wreath laying ceremony occurred simultaneously with Arlington National Cemetery and over 750 participating Veterans Cemeteries across the Country totaling 1.2 million wreaths.
The Wreaths Across America project began in 1992 when a Maine wreath maker donated 5,000 surplus wreaths to Arlington National Cemetery.
In 2015 over 901,000 wreaths were placed across the country and overseas by nearly 200,000 volunteers.
Today's event is made possible through donated funds and efforts by the Navy Wives Club of America. It is their vision that has made the 7th annual wreath laying ceremony possible.
Wreaths Across America: Honoring veterans for the holidays
From Monterey, Cal.
The wreaths, which cost $15 each, were paid for solely through donations, said Michael McNutt, a retired Marine who organized the event with the sponsorship of the American Legion Post 642 of Cupertino. The group has enough donation money to pay for a portion of the wreaths for next year, McNutt said.

Wreaths Across America Honors All in Arlington National Cemetery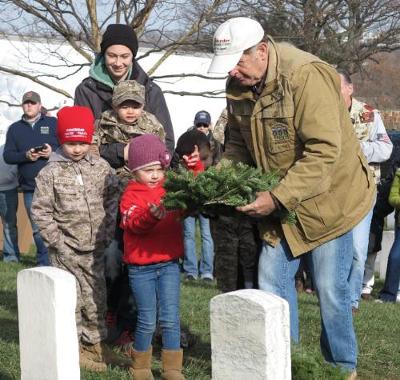 Wreath laying ceremony set December 17 at Virgilina Cemetery

THIS IS HOW IT STARTED
Members of the community are invited to be a part of a holiday wreath-laying ceremony at Corinth National Cemetery.
When Worcester Wreath Company had a number of wreaths leftover during the 1992 holiday season, owner Morrill Worcester quietly chose to honor American veterans.
Family members of veterans buried at the cemetery off Highland Road will join with volunteers December 17 to lay approximately 8,000 wreaths at the headstones of the USA military personnel during National Wreaths Across America Day. Olympia Snowe, Blue Bird Ranch trucking company and several others, the wreaths were placed in an older section of Arlington National Cemetery in Virginia that wasn't seeing as many visitors as it used to.
This year, more than 200,000 wreaths will be placed on headstones at Arlington.
IN TENNESSEE
Volunteers decorate veterans' graves with Christmas wreaths at Mountain Home

Mountain Home was just one of more than a thousand wreath laying ceremonies that took place across the country Saturday.
Thousands help lay wreaths at Arlington National Cemetery

ARLINGTON, Va. — Rodrick Harris comes to Arlington National Cemetery from his home in Rockville, Md., at least once a month. He works for a funeral home and does business here regularly.
But being here this chilly December morning to help lay the holiday wreaths on the graves of those who are laid to rest here was something this 21-year retired Army veteran says he has never done before today.


Thank you! Thousands of volunteers add wreaths to soldiers' graves
HOPEWELL, Va. — Nearly 2,000 volunteers turned out Saturday in Hopewell to place wreaths on the graves of soldiers who fought for our nation's freedoms.
The city reached out for help and WTVR CBS 6 spread the word after City Point National Cemetery in Hopewell was given thousands of wreaths to place on the graves.
Organizers said after word spread, so many people volunteered that the task of placing the 6,000 wreaths on the tombstones took just 15 minutes.
Wreaths Across America places wreaths on Arlington

I HAD TO INCLUDE THIS
FedEx Delivers 18,000 Christmas Trees to Members of the Military and Their Families

FedEx has teamed up with the Christmas SPIRIT Foundation to give American military members and their families Christmas trees through the Trees for Troops program.
FedEx has shipped more than 176,000 live Christmas trees to service members and their families to 65 bases in 17 countries to every branch of the military since the program's launch in 2005, Fox News reported.