Neutered Dems are all bark, no bite on Trump's nominees

And even the press at this point seems to be admitting that there's not much drama to a story about the Democratic minority trying to stop Trump's nominees.

"Dems to unload on Mnuchin," said a headline in Politico. The story said Democratic questions will "make for some uncomfortable hearings and negative headlines," but aside from that possible discomfort, the story said nothing about actually blocking the nominee.
WI Lawmaker: Dems Are Stalling, Recount Will Not Be Completed, State Will Be Forfeited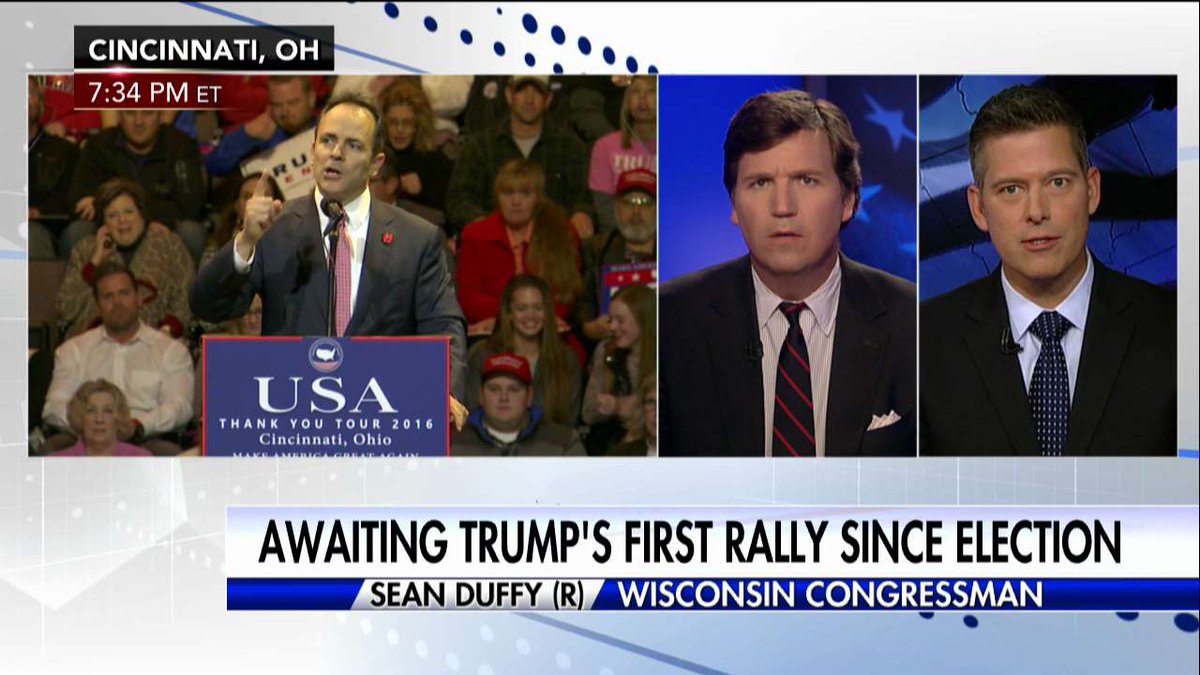 Duffy said Democrats and far left Green Party supporters are stalling the recount in Dane County Wisconsin, where Madison is located. The county is holding a hand recount. The recount will not be completed by the deadline on December 20th. Therefore, according to Rep. Duffy, the state will quite possibly be forced to forfeit their electoral votes.
This was the plan all along. Democrats knew they couldn't make up 20,000 votes. But they also knew if they stalled on the recount the state could not certify the vote.
Wisconsin, won fairly by Donald Trump, will forfeit.
Democrats Must Dig Faster and Use Bigger Shovels
Things the Democratic elites should do in order to live up to their party principles.

Barack Obama was an affirmative action president. Debbie Wasserman-Schultz and Donna Brazile were affirmative action DNC chairs. Hillary was an affirmative action presidential nominee.
As a result, the Democratic party has lost the White House, Senate, House of Representatives, many governorships, state and local legislatures, as well as the ability to make Supreme Court appointments that will determine the direction of the Judiciary for a generation. The Democrat party today is the weakest it has been since the 1920s.
My only regret is that the Democrats hadn't tested all of their half-baked ideas on their party first, before forcing them on the entire nation. Had they done that, their party would not have survived natural selection and today's Republicans would have to compete with a lot more sensible group of people.
Trump's Four-Pronged Plan to Jumpstart America's Economy

Both parties have been shocked to the core by Trump's election — so there is less chance Senate Minority Leader Chuck Schumer and House Minority Leader Nancy Pelosi will wage major battles to stop most items on Trump's economic agenda.
But they will complain. One likely item on the jobs agenda is Trump's promise to cut the corporate tax rate. Corporations have been a favorite target of Democrats, but the political tactics didn't work on Nov. 8. Most Americans in swing states just wanted more jobs and better wages.
Laffer says the corporate tax rate in the United States is the highest in the 35 member-nations of the Organization for Economic Cooperation and Development. The United States recently overtook Japan with a top federal corporate rate of 35 percent — or 39.1 percent, if you include state taxes.
Trump would like to cut the top rate to 15 percent.
CNN Host Acts As Condescending As Possible To Trump Supporters In Focus Group
The "New Day" host was conducting a discussion with several longtime Donald Trump supporters and was skeptical when one woman claimed that 3 million illegal immigrants cast election ballots in California.
"Did you hear President Obama say that illegal people could vote?" she pressed. "Tell me, where?"
Another woman offered that you can "Google it and find it on Facebook," which Camerota proceeded to do.

Joe Manchin may be Trump's energy secretary

THERE IS A METHOD TO HIS MADNESS… BOTH COME FROM RED STATES WITH REPUBLICAN GOVERNORS, WHO WOULD APPOINT THEIR SUCCESSORS.
The senator from West Virginia would be the second Democrat that Trump is reportedly considering for a Cabinet post. The Trump team formally announced Thursday that Sen. Heidi Heitkamp from oil giant North Dakota, who opposes President Obama's climate rules and supports the development of clean coal, will be visiting with Trump in New York on Friday.
Texas to Require That Aborted Babies Be Buried or Cremated

The new rules are part what the governor said are meant to "reflect our respect for the sanctity of life" and "turn the tides against the soulless abortion industry in Texas," according to a fundraising email he sent in July, HuffPost reported.
The cost of cremation, which can be as high as $10,000, will be paid by the facilities that dispose of the aborted baby's remains, the article noted.
The Texas Tribune reported that the new rules don't apply to "miscarriages or abortions that occur at home." Furthermore, birth or death certificates won't be "required for 'proper disposition' under the rules."
According to the Tribune, health officials said the rules will go into effect on Dec. 19.
Dems Think They Can Pressure Trump Into Keeping Overtime Regulation

I'M HOPING TRUMP WON'T PLAY BY THESE CLOWNS' RULES.
The regulation, enacted by Obama and his labor secretary, requires most employers to pay overtime to salaried workers who earn less than $47,476 a year. It was supposed to go into full-effect on December 1st, but has been temporarily blocked by a Texas federal judge. Republican leadership on the Hill has already said the rule tops the list of Obama regulations on their chopping block list
World Mayors Gather To Plot Trump-Era Climate Plan

HOW LONG WILL IT TAKE FOR THEM TO REALIZE THAT TRUMP IS NOT THE SOCIALIST THAT OBAMA WAS AND WITHOUT AMERICA'S PARTICIPATION ALL THEY HAVE IS THE HOT AIR THEY CLAIM TO BE WORRIED ABOUT
As leaders of busy, polluted cities home to millions of people, they want countries to push on with adopting the so-called Paris Agreement to limit harmful emissions — an accord that Trump has cast doubt on.
"In the aftermath of this election there's never been a more important time for those city leaders to stay on course — the whole world is counting on them," said Clover Moore, mayor of Sydney, Australia.
Obama set to give 'final' counterterrorism speech to troops
Will describe success of his 'no combat' strategy

SPEC OPS ARE THE MOST EFFECTIVE KILLING MACHINES ON THE PLANET. IMAGINE WHAT THESE HARDASSES ARE THINKING AS THEY GET LECTURED BY THE WORLD'S #1 CANDYASS.
The White House said Mr. Obama will travel on Tuesday to MacDill Air Force Base in Tampa, Florida, the same military base where he declared in 2014 that U.S. troops deploying to Iraq as military advisers would have no combat role against Islamic State extremists.
"We will train and equip our partners. We will advise them and we will assist them," Mr. Obama told troops at the time. "As your commander-in-chief, I will not commit you and the rest of our Armed Forces to fighting another ground war in Iraq."
White House Announces Support For Requiring Women To Register For Draft

"As old barriers for military service are being removed, the administration supports — as a logical next step — women registering for the Selective Service," Price said, using the formal name for the military draft.
HE HAS TWO CHANCES OF GETTING THIS: SLIM AND NONE. FAT ALREADY LEFT TOWN
Oh Boy: Some Electoral College Electors Form 527 Group To Prevent Trump From Becoming President

An upstart group of Electoral College voters have formed a political non-profit organization to fund a campaign to deny Donald Trump the presidency.
But while a campaign organizer says the movement has secured one anonymous Republican, it remains an unlikely, last-ditch effort for opponents of the president-elect.
The paperwork filed Tuesday with the Colorado Secretary of State's Office creates a "527" group, which can raise unlimited donations from individuals, corporations and labor unions for political activities.
Professor: Islamophobia plays pivotal role in terrorism
ISLAMOPHOBE: SOMEONE WHO KNOWS THE TRUTH ABOUT ISLAM

Crowley: The Party of Obama and Its Bitter Reckoning

Eight years ago, the Democratic Party gambled that a young, inexperienced but charismatic senator could deliver the presidency and with it, sustained national electoral success. They were half-right: they got the presidency but lost the country.
It turns out that President Obama's promised "fundamental transformation of the nation" was not what it was cracked up to be — and it instead cracked up his party.
They have learned nothing from the Republican sweeps of 2010, 2014 and 2016 — because committed leftist ideologues can't — won't — adapt.