Daily Archives:
December 1, 2016
FEEL BETTER YET???
Names In Running For VA Sec — Scott Brown, Pete Hegseth, and Sarah Palin

This is the department perhaps most in need of help and a competent hand. It should be someone whose experience really can change things.
Trump Considering Palin For VA Secretary: Will This Make Liberals Crazy? YOU BETCHA!

THINK THE LEFT HATES TRUMP? IMAGINE IF THE MAMA GRIZZLY WERE IN THEIR FACES
This report about Palin being considered to head Veterans Affairs seems more credible. It would be awesome to see her in this role. She would do a great job and liberals would finally be forced to admit that she's nothing like the caricature of her they created.

 White House sniffs at Trump helping to save Carrier jobs in U.S.
The White House threw a little shade Wednesday on President-elect Donald Trump's apparently successful effort to keep 1,000 manufacturing jobs in Indiana, saying it's nice but pales in comparison to the jobs created under President Obama.

Referring to Mr. Trump's persuading the air conditioning firm Carrier to keep jobs from being transferred to Mexico, White House press secretary Josh Earnest said, "If he is successful in doing that 804 more times, then he will meet the record of manufacturing jobs created in the United States while President Obama was in office."
The president's spokesman said the Carrier announcement was "good news." But he noted that the action involved saving current jobs, rather than creating new ones.
By that measure, he said, Mr. Obama "saved" more than 1 million jobs in the auto industry bailout in 2009.
HORSESHOE. HE BRAGS ABOUT CREATING 200,000 LOW-PAYING, PART TIME JOBS AFTER HE DESTROYS 400,000 GOOD-PAYING, FULL TIME JOBS.
ALL HE DID FOR THE AUTO INDUSTRY WAS PAY OFF THE UAW AT TAXPAYERS' EXPENSE.
HE COULD CARE LESS ABOUT ANYTHING BUT PUBLIC UNION DUES-PAYING JOBS.
Carrier Employee To Trump And Pence: Thank You For Sticking To Your Word And Going To Bat For Us

THIS IS ROBIN MAYNARD.
TAKE A GOOD LOOK AT HIS FACE. HE DOESN'T BURN FLAGS TRASH AMERICA.
HE DOESN'T COLLECT WELFARE AND ASKS FOR NOTHING BUT A CHANCE TO PROVIDE FOR HIS FAMILY.
HE IS THE HEART AND SOUL OF THE TRUMP VOTER WHO'S BEEN IGNORED AND MADE FUN OF FOR DECADES.
Robin Maynard, a 24-year Carrier employee, issued a heartfelt thank you to Donald Trump and Mike Pence during a Wednesday morning interview on Fox News.
"I would like to tell him thank you for going out of your way and taking your time away from your family, working on the Carrier and employees' deal," Maynard stated. "Sticking to your word and going to bat for us all at Carrier and keeping our jobs here. I'd like to thank him and Mike Pence for doing it so quickly."

FLASHBACK: OBAMA MOCKS TRUMP PLAN TO KEEP CARRIER IN USA

WE'LL SOON BE RID OF THE VIRUS THAT WE'VE SUFFERED FROM FOR 8 LONG YEARS
OBAMA's RESPONSE to Carrier JOBS Leaving for MEXICO – "They are not coming back"

Obama tells 'Rolling Stone' Dems lost partly because 'Fox News is in every bar and restaurant'

WAAHHH! THAT MEAN OLD FOX NEWS WOULDN'T KISS MY RING LIKE THE REST OF MY WHORES!
In a post-election interview with "Rolling Stone," President Obama blamed his party's failure to reach out to blue-collar workers on the proliferation of 24-hour cable news — specifically Fox News Channel.
This isn't the first time Obama has taken pot-shots at the cable news giant. He brought up that theme in the past after suffering prior losses. The president also found blame in social media and the reportage of "fake news" stories.
Texas Governor Greg Abbott To Sign Law Banning Sanctuary Cities

THE ONLY PURPOSE SANCTUARY CITIES SERVE IS TO PROTECT ILLEGAL MURDERERS AND RAPISTS
It's about time that we put an end to the sanctuary cities nonsense. It was a ploy to pack the voter rolls with more Democrats, but all of those sanctuary cities are all now solidly blue. The illegals invited in by the sanctuary cities simply strain city and county budgets and bring an additional element of crime. Governor Abbott already has a cooperative Texas AG who is working with him on this effort and will additionally have a cooperative Federal AG, Congress and President to help him get this done.
Kerry Vows "One Hell Of A Debate", "Will Not Go Quietly Into The Night", As Trump Admin Prepares To Takeover

LURCH, KINDLY SHUT THE HELL UP AND GO SPEND YOUR WIFE'S MONEY
"We cannot survive as a fact-free nation," Kerry declared, urging leaders to heed the warnings of climate science and to invest in green technology rather than a return to coal that Trump advocated on the stump.
"After the turmoil of the past few months, it is essential that we restore civility, honesty, and reasonableness — common sense — to the policy debates we have in this country.
TWO DRIVERS, ONE PARKING SPACE
OBAMAPHONES OUT… LIGHTS, CAMERA, ACTION!

Trump could end the dream of many international students

AS THINGS ARE NOW, YOU CAN ONLY GET INTO COLLEGE IF YOU'RE A FOREIGNER, AN ILLEGAL, OR BLACK, UNLESS YOU WANT TO GO MANY THOUSANDS OF DOLLARS IN DEBT…IF YOU CAN FIND AN OPENING.
"Based on the nationalist and protectionists ideas, Donald Trump will restrict more and more opportunities for foreigners to excel in the U.S. Therefore, students will face much stricter rules to acquire F-1 Visa to begin studying in the U.S. and will likely face harder situations after their education," he added.
BOO HOO HOO. AMERICAN JOBS FOR AMERICANS… IMAGINE!
Donald Trump is assembling the richest administration in modern American history

IF YOU WANT A PROSPEROUS NATION, YOU START WITH PEOPLE WHO KNOW HOW TO MANAGE BUSINESS SUCCESSFULLY.
THE WASHINGTON COMPOST DOESN'T MENTION HOW MANY MULTI-MILLIONAIRES THERE ARE INFESTING THE HALLS OF CONGRESS WHO NEVER WORKED IN THE BUSINESS WORLD IN THEIR LIVES.
Trump is putting together what will be the wealthiest administration in modern American history. His announced nominees for top positions include several multimillionaires, an heir to a family mega-fortune and two Forbes-certified billionaires, one of whose family is worth as much as industrial tycoon Andrew Mellon was when he served as treasury secretary nearly a century ago. Rumored candidates for other positions suggest Trump could add more ultra-rich appointees soon.
Incoming Treasury Secretary Eyes 3 to 4 Percent Growth; First Up, Tax Reform

WE JUST WENT THROUGH 8 SOLID YEARS OF LESS THAN 3% GDP GROWTH. WORST IN HISTORY…EVEN DURING THE GREAT DEPRESSION.
"Our first priority is going to be the tax plan," Mnuchin said. The Trump team wants to lower corporate tax rates to make US companies competitive; and it plans to repatriate trillions of dollars from companies that moved overseas during the Obama years.
Obama Administration to Implement Smoking Ban in All Public Housing

WHAT AN ABSOLUTE JOKE. THESE KIDS START SMOKING CIGARETTES AT 8, WEED AT 12. WHO'S GOING TO ENFORCE THIS NO SMOKING RULE?
The Department of Housing and Urban Development (HUD) said the no-smoking rule will go into effect in 2017, but "public housing agencies would have a year and a half to put smoke-free policies in place," The New York Times reported.
Apparently the democrats never heard what it's called when you do the same thing over and over again, expecting a different outcome. Nancy Pelosi, Nancy-Pants, San Fran Nan, was re-elected as minority leader in the House. Let me repeat that…MINORITY leader. Look forward to more high comedy as they flop around like a carp out of water.
Great! It's Pelosi! Yay! "We Know How to Win Elections", She Said

THERE ARE FAR MORE REVOLTING PHOTOSHOPS, BUT THIS IS A FAMILY-FRIENDLY WEBSITE (sorta)
Actually, this is a good thing, Nancy Pelosi will continue on as House minority leader. The vote was today and she won. The 76-year old in charge will mean more of the same and the downward spiral of the Democrat Party will continue. Tim Ryan tried to unseat her but she's a major fundraiser for Democrat politicians and they owe here so he lost.
Ryan made a good point when he called the Democrat party the coastal party because that's what it is. They weight heavily in favor of urban areas and pay no attention to middle America, in fact, their policies hurt the average working man and rural areas. He also talked about the need for a strong economic message.
Wait a minute … GOP rejoices over Pelosi win

Before the election, the National Republican Congressional Committee trolled Pelosi. "No single person deserves more credit for House Republicans' historic majority than Nancy Pelosi," NRCC Communications Director Katie Martin said in a statement. "Under Nancy Pelosi's leadership, House Democrats have become completely irrelevant."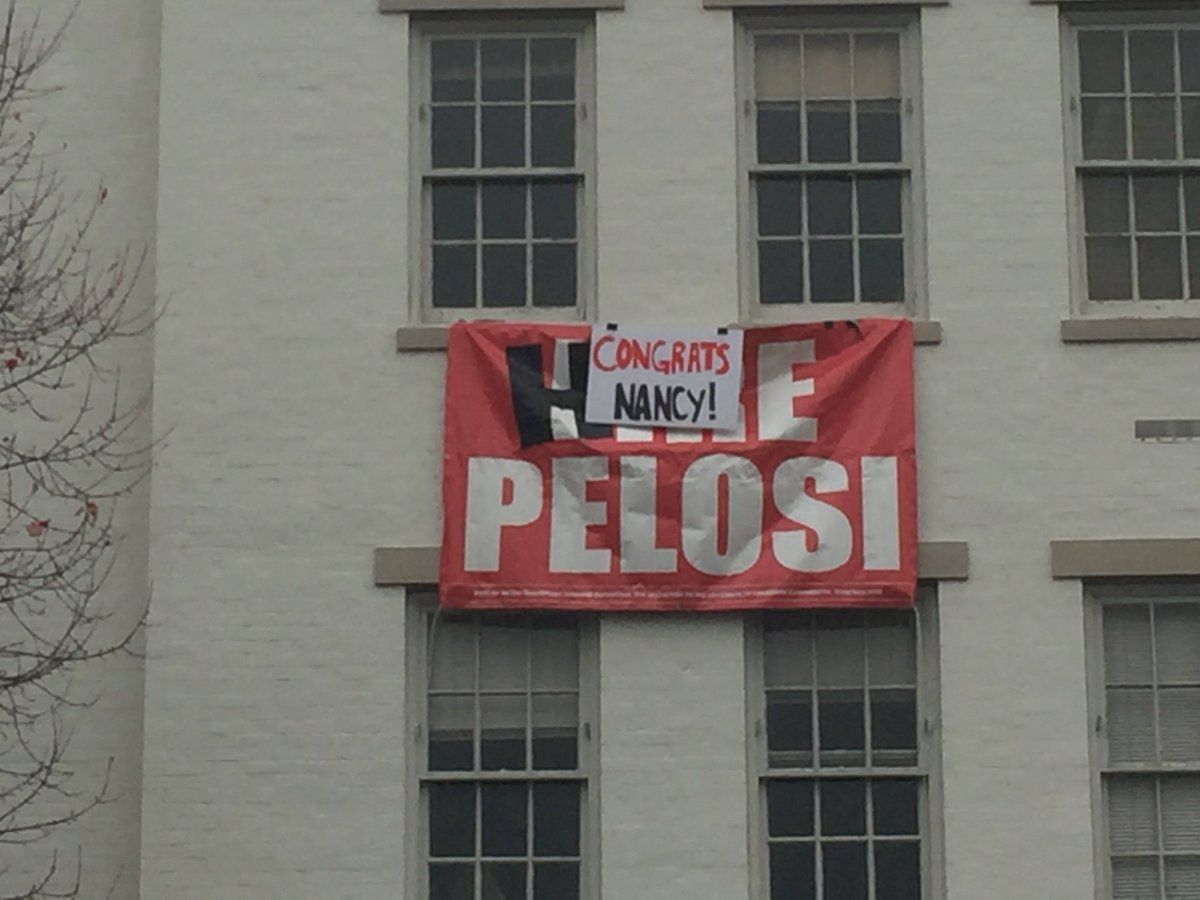 I think there was some voter fraud in Pelosi's leadership election. Someone let Reince Priebus vote 134 times.
Dems (Nov 9): Geez, I guess we are really out of touch with middle America
Dems (Nov 30): That thing we are doing, yeah, let's double down
Hope for the Future?… Average Age of House Democratic Leadership is 76

House Democrats overwhelmingly decided to go with the past by keeping Minority Leader Nancy Pelosi.
The vote was 134 to 63 for second place finisher Rep. Tim Ryan.
Pelosi is 76.
The top three Democrats in leadership are 76 (Pelosi), 77 (Steny Hoyer) and 76 (Jim Clyburn). The average age of the Democratic party leadership is 76.
The top three Republican leaders, in contrast, are 46 (Paul Ryan), 51 (Kevin McCarthy) and 51 (Steve Scalise).
PERHAPS SOME OF YOU REMEMBER JACK CAFFERTY, LATE OF CNN. JUST BEFORE HIS CONTRACT WAS CANCELLED IN 2010, HE DID THIS PIECE ON PELOSI AND HER UNMITIGATED ARROGANCE. IF YOU HAVEN'T SEEN IT YET, I URGE YOU TO WATCH. IT'S ONLY TWO MINUTES, BUT CAFFERTY ABSOLUTELY BLISTERS THE SAN FRANCISCO TREAT.