You know that commercial on TV that says: If you have an erection lasting more than 4 hours consult a doctor? If you have a slight smile on your face that's lasted almost a week, should you seek medical help? Not really. Just look at all the paid protesters and the little snowflakes who need coloring books and Play-Doh to cope with the fact they didn't get their own way. That's what decades of parental indulgence, never punishing kids, telling them everything is someone else's fault and everybody gets a trophy, so nobody has hurt feelings because they lost.


As you can well imagine, the Sunday BS sessions were all still fuming about how they could get it so wrong. They could probably use a few cases of this:

New York Times publisher vows to 'rededicate' paper to reporting honestly

AFTER BEING CAUGHT CO-ORDINATING WITH THE CLINTON CAMPAIGN AND PURPOSELY BURYING ANYTHING NEGATIVE ABOUT HER, THEY PROMISE TO DO BETTER. DON'T HOLD YOUR BREATH.
Arthur O. Sulzberger Jr., the paper's embattled publisher, appealed to Times readers for their continued support.
"We cannot deliver the independent, original journalism for which we are known without the loyalty of our subscribers," the letter states
She wrote about another reader who asked that the paper should focus on the electorate instead of "pushing the limited agenda of your editors."
"Please come down from your New York City skyscraper and join the rest of us."
Sulzberger — who insisted that the paper covered both candidates fairly — also sent a note to staffers on Friday reminding the newsroom to "give the news impartially, without fear or favor
Obama Takes In Thousands of Illegal Muslim Migrants Who Couldn't Get In to Australia

HE'S TRYING TO CAUSE AS MUCH PAIN AS HE POSSIBLY CAN BEFORE HE'S KICKED OUT
Obama is trying to sneak in thousands more Muslims before the door closes. And he's trying to get them anywhere he can. If Australia won't take in Muslims, Obama will show up asking the Aussies to send them on over.
We're not even being told the total numbers who will shortly be making their way to our shores, but the Journal notes that two of the camps located on Naru and Manus Islands currently hold a combined total of more than 1,300 of them. And where do these migrants come from? The majority are from Afghanistan, Pakistan, Iraq, Iran and Sri Lanka
U.S. to push ahead on climate pact before Trump takes over: Kerry

"Until January 20 when this administration is over, we intend to do everything possible to meet our responsibility to future generations to be able to address this threat to life itself on the planet."
President Barack Obama spent five hours golfing Saturday and returned to the links again Sunday as cities across the country were convulsed in violent protests by Obama's fellow Democrats about the election of Republican Donald Trump to succeed Obama. Obama has not issued a statement about the protests that have included calls to kill Trump, kill police, rape Melania Trump and where numerous reporters have been attacked by pro-Hillary protesters.

THEN ONE LAST WORLD TOUR ON OUR DIME
Obama's final foreign trip a 'group therapy' session

The president will travel to Athens on Monday, then to Berlin on Wednesday and finally Lima, Peru, on Friday. He's expected to return to Washington, DC, on Sunday.
In a moment of deep shock and depression in Europe — the US was not supposed to elect Donald Trump — this visit has become a kind of group therapy by which European leaders will try to reassure themselves that the America we know won't disappear," Josef Joffe, a Stanford University scholar, told the Journal
Michael Moore: We should run Oprah, Tom Hanks for president
"Look that's the sideshow that needs to happen in a week like this but, frankly, Democrats would be better off if they ran Oprah or Tom Hanks." "Why don't we run beloved people? We have so many of them. The Republicans do this. They run Reagan and the Terminator and other people. Why don't we…why don't we run somebody that the American people love?" he said.

SPEAKING OF ORCA:
Oprah Winfrey Faces Backlash About Her Comments Following Donald Trump's Win
While speaking to the Associated Press on Thursday, Oprah Winfrey admitted that she was in disbelief at Donald Trump's win and Hillary Clinton's shocking defeat on Tuesday.
But the media mogul was seemingly so impressed by the President-elect's meeting with President Obama that her feelings took a different turn, as she tweeted, "Everybody take a deep breath! Hope Lives!"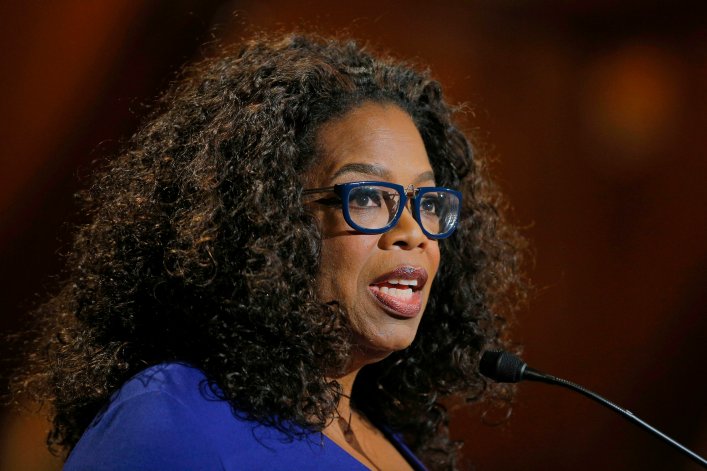 HER LEFTIST BUDDIES ARE NOT HAPPY
GOP To Use Previously Unheard Of Tactic To Slam Dunk Trump Agenda

The Republican congressional leadership is seriously considering an unprecedented procedure to guarantee that its and President-elect Donald Trump's highest priorities are quickly enacted soon after Congress convenes next year.
The key is "reconciliation," the part of the congressional budget process that allows highly controversial policies to be considered in the Senate without any possibility of them being filibustered.
Flashback—–> Obama to Republicans: You Don't Like My Policies? Then Go Out There and Win an Election
You gotta win elections if you want to change things. That's the way the system works, O says.

Donald Trump Picks Reince Priebus as Chief of Staff

WE JUST HAVE TO TRUST HE HAS A PLAN.
In selecting Mr. Priebus, the president-elect passed over Stephen K. Bannon, the right-wing media mogul who oversaw his presidential campaign. If Mr. Trump had appointed Mr. Bannon, a fierce critic of the Republican establishment, it would have demonstrated a continued disdain for a party that Mr. Trump fought throughout his campaign.
Mr. Trump's choice is certain to anger some of his most conservative supporters, many of whom expect him to battle the Washington establishment over issues like taxes, immigration, trade, health care and the environment. They view Mr. Priebus as a deal maker who will be too eager to push the new president toward compromise.
HIS CHIEF ADVISOR
Antidiscrimination groups denounce Trump's appointment of Steve Bannon

HE'S GOT ALL THE RIGHT PEOPLE PISSED AT HIM
A chorus of advocacy groups, commentators and congressional Democrats denounced Bannon as a proponent of racist, anti-Semitic and misogynistic views as Trump began his first full week as president-elect. Trump named Bannon his chief strategist and senior counselor on Sunday while also appointing Republican National Committee Chairman Reince Priebus to be his chief of staff.
It is easy to see why the KKK views Trump as their champion when Trump appoints one of the foremost peddlers of White Supremacist themes and rhetoric as his top aide. Bannon was 'the main driver behind Breitbart becoming a white ethno-nationalist propaganda mill,' according to the Southern Poverty Law Center
Sen. Manchin calls Harry Reid 'absolute embarrassment' for anti-Trump rant
DON'T BE SURPRISED IF, AT SOME POINT, HE SWITCHES TO REPUBLICAN
"Senator Harry Reid's statement today attacking President-elect Trump is wrong! It is an absolute embarrassment to the Senate as an institution, our Democratic party, and the nation," Mr. Manchin, West Virginia Democrat, said in a statement released late Friday.
"I want to be very clear, he does not speak for me," said Mr. Manchin, one of the most conservative Democrats in the upper chamber of the U.S. Congress.
Mr. Reid, Nevada Democrat, lashed out at Americans who backed Mr. Trump, saying they confirmed the ascendance of "hate and bigotry in America."
THIS IS WHAT MANCHIN WAS TALKING ABOUT:

SNL Holds Funeral For Hillary Clinton's Political Career
If you tuned into last night's SNL expecting to see a sketch about Donald Trump's astonishing win, that's not what you got. Instead, you got Kate McKinnon in her Hillary Clinton duds, singing the late Leonard Cohen's "Hallelujah" and crying.
No, seriously.

THIS IS FUNNY JUST BECAUSE IT MAKES FUN OF THE SOPHISTRY OF THE "EXPERTS"
Watch: SNL Portrays Smug Dems Election Night — Then Let Down After Trump Wins

DAVE CHAPPELLE AND CHRIS ROCK ARE A HOWL
Laura Ingraham Under Consideration for Trump's White House Press Secretary
Conservative radio host Laura Ingraham is under serious consideration for Trump's White House Press Secretary.
This is good news.

I THINK ONE OF THE HALLMARKS OF A TRUMP ADMINISTRATION IS THAT HE'LL HIRE PEOPLE WHO ARE THE BEST AT WHAT THEY DO
She used her profile as a Fox News contributor, her nationally syndicated radio show and her website LifeZette.com to advocate on his behalf. Trump also tapped into Ingraham's years of dirt-digging on the Clintons to sharpen his attacks on the Democratic nominee.
Ingraham would not comment for this article. A source familiar told The Hill that she's in contact with people in Trump's inner circle and has expressed interest in the role.

Pic Of The Day: Air Force None

President-elect Trump on immigrants he'll deport

IF I WERE TRUMP I WOULDN'T DO ANY TAPED INTERVIEWS, GIVEN THE MEDIA'S PENCHANT FOR "SELECTIVE EDITING"
Since Trump's election on Tuesday night, the realities of actually building that wall have begun to set in The Mexican government has publicly reminded him that Mexico will not pay for the wall. And asked about the wall, Trump transition co-chair Newt Gingrich said the wall was "a great campaign device."
Trump also told "60 Minutes" that the border wall, which was one of the centerpieces of his campaign platform, could be part wall and "some fencing," in accordance with what congressional Republicans have proposed
THEY'RE SETTING HIM UP TO TRY TO SHOW US TRUMP WON'T DO ANYTHING HE PROMISED HE WOULD…THAT HE'S A PHONY
Mary Matalin vs. Van Jones over race as an issue in 2016 campaign

SHE SHOULD JUST SLAP THIS RACE PIMP… THEN AGAIN, SHE LIVES JAMES CARVILLE
Gwen Ifill dead at age 61

Gwen Ifill, the longtime news anchor who had served as a co-host of PBS's NewsHour and as moderator of "Washington Week," has died after a battle with cancer, PBS has confirmed. She was 61.
She moderated the 2004 vice-presidential debate between Dick Cheney and John Edwards and the 2008 vice-presidential debate between Joe Biden and Sarah Palin. She also moderated a primary debate between Sen. Bernie Sanders and Hillary Clinton last year.
PIERS MORGAN: And the award for the worst election loser goes to . . . every deluded millionaire celebrity who can't deal with the fact that America couldn't care less what they think

Hmmm. You mean they're all terrified they might now lose their jobs, and you suddenly realised you'd also lose your $40 million contract with Netflix and your gated mansion in Bel Air, and have to eat paella for the rest of your life.
Even tough-guy Robert De Niro, who said he wanted to 'punch Trump in the face', backtracked faster than his acting career's been tanking. 'I can't punch him now he's the president,' he stammered to Jimmy Kimmel.


BREAKING NEWS: Chicago Cubs are being forced to give up their World Series title. (self.The_Donald)
Cleveland Indians fans have rioted across the country in protest of the 2016 World Series. Despite knowing the rules of the game prior to playing, they were unhappy they lost and demanded the outcome to be changed.
They could be heard chanting #NotOurWorldSeriesChampion all across America. Even though the Cubs won 4 games and the Indians only won 3, since both teams scored 27 total runs throughout all 7 games, they are being declared co-world champions.
When questioned, Commissioner Manfred stated, "We felt as though it was the right thing to do for the nation. What kind of example would Major League Baseball be setting if we expected the adults who play this game, and their fans, to gracefully accept defeat? Instead of creating a bigger divide between the Cubs and Indians, MLB is confident that the Cubs will gladly share their victory with the Indians."
Losers: Clinton Campaign Ignored Bill's Advice And Felt White Working Class Voters Weren't Worth The Time

In February of 2016, The New York Times reported that everyone in Clinton land thought they were going to slaughter Donald Trump. It was hubris. It was typical elitism from the liberal elite. And in the end, the Trump campaign smashed the face of the Clinton operation with a brick, doused it in gasoline, and set it on fire. It was an upset that no one, except for white working class America and die-hard Trump supporters, saw coming, which explains the epic temper tantrums emanating from the Left.
CNN Commentator On White Trump Supporter Who Got Beat Up: "Poor White People"

Trump: Americans Have Nothing To Fear From His Admin, Will Only Take Salary Of $1

OBAMA AND CLINTON WOULDN'T TURN DOWN A PLUGGED NICKEL. IT'S NOT LIKE THEY EVER HAD A REAL JOB OR ANYTHING.
Meanwhile interviewer Lesley Stahl didn't mention the real anti-Trump violence. That'll be different, a president taking no salary and no vacations.
HOW ABOUT A PRESIDENT WHO DOESN'T HAVE TO SQUAT ON SOME BIG DONOR'S MANSION FOR WEEKS ON "VACATION"
OH, ABOUT THAT 'HE LOST THE POPULAR VOTE BULLCRAP: