The Chicago Cubs and their millions of long-suffering fans are facing destiny as they've fought back from a 3 games to 1 deficit to win two in a row and face a seventh and decisive world championship game tonight in Cleveland. I have enjoyed this wonderful season as a distraction from the political cesspool we are drowning in.
There, too, we are on the precipice of the most fraudulent, monumental vote rigging operation since the late and unlamented Saddam Hussein, the bastard in Iraq, who garnered 99.9% of the vote when he allowed a vote. Anybody who didn't vote for him wound up dead. Most of the national polls show the race tightening, with many showing Trump actually pulling ahead. This usually happens as people get more interested and different polling agencies try to show these fiascoes as some kind of competition. I, for one, am unconvinced that this election has not been a foregone conclusion for 8 years. At least Trump is not the phony moderate milquetoast that McCain and Romney were. Trump provided an outlet for peoples' anger and frustration over the few elites who rig everything to suit their own selfish interests. His rallies drew tens of thousands, Hillary's, a few hundred. Yet, in the end, it is highly doubtful he can overcome the voting machine flipping, fraudulent multiple voting patterns, which happens far more often than is ever reported, and of the 40 or so million who are here illegally it is unclear how many of them get away with voting, especially in states without voter ID. The Cubs will know their fate in a few hours. The country has to wait 6 more days.
Six Days: Trump's Narrow Path to Victory Gets a Boost in Key Swing States


Bottom line: The data and polling averages still point to a modest but clear Clinton victory. But the cake walk she was dreaming of doesn't appear to be materializing at the moment, as her own scandals and failed policies are dragging her down. Trump supporters need to root for decisive momentum in the final days (which isn't necessarily a pipe dream), and for the "intensity gap" electoral trend to continue.
PA Democrats ask judge to bar Trump's polling place observers

REMEMBER, IF YOU WILL, ON ELECTION DAY IN 2012, THERE WERE DOZENS OF PRECINCTS WHERE THE REPUBLICAN OBSERVERS WERE LOCKED OUT OF THE POLLING PLACES AND FORCED TO GO TO A JUDGE TO GET A COURT ORDER. BY THEN THE VOTES THAT HAD BEEN PRE-LOADED ON THE MACHINES WERE TALLIED AND DELETED. IT WAS PART OF THE REASON 56 PRECINCTS IN PHILLY DIDN'T REGISTER A SINGLE ROMNEY VOTE, A STATISTICAL IMPOSSIBILITY.
The lawsuit, which loops in the Republican Party of Pennsylvania, is similar to lawsuits filed Sunday by the state Democratic parties in Arizona, Ohio, and Nevada against Trump, Stone, and the state Republican parties there.
Stone, who has been using the Super PAC Stop the Steal to sign up volunteers, said in an emailed statement that he is "honored but the lawsuit is without merit."
Stone said his group is not working with Trump or the Republican Party in its effort to conduct exit polls outside 7,000 polling places with a history of "one-party rule and past reports of irregularities."
Tom Fitton: Naïve to Think Millions of Aliens in U.S. but 'None of Them Are Illegally Voting'

"There's 43 million people who are not citizens and are ineligible to vote, but a good percentage of them do register to vote. And of those that do, some vote," Fitton explained.
"Most tend to vote Democrat. It's a fact," he continued. "There's been a study out of Old Dominion University that shows it is enough of a vote to sway elections, one way or another. It may have resulted in election, specifically, of Al Franken to the United States Senate, and all the bad things politically or public policy-wise that happened as a result, like Obamacare and things like that."
Texas Woman – Who Is Not a US Citizen – BUSTED for Voting 5 Times in Texas


A Texas woman, who is not a citizen of the United States, was arrested Friday for having illegally voted in Dallas County — five times.
Rosa Maria Ortega, 35, is presently a resident of the Tarrant County Jail, where she is being held on a $10,000 bond, according to the Dallas-Fort Worth NBC affiliate Channel 5 News, which reported:
Ortega is married to an American and is living legally in this country, but is not a citizen and therefore, not qualified to vote, said Harry White, who supervises public integrity and white collar crime investigations for the Tarrant County District Attorney.
Ortega applied to vote in Tarrant County and acknowledged on the application form that she was not a citizen, White said. The county rejected her application and notified her she was not qualified to vote.
Hillary Clinton building big early voting lead in battleground states


With one week until election day, more than 23 million Americans have already voted – and it's becoming clear that Donald Trump has a lot of ground to make up.
Analysis of early voting trends shows Hillary Clinton is building a potentially insurmountable lead in some traditional battleground states, narrowing Trump's potential path to victory while fighting Trump to a draw in other states that are must-wins for the GOP nominee.
TRUMP HAS NO GOTV OPERATION AND NO SUPPORT FROM THE PARTY. THE DEMOCRATS KNOW HOW TO GET THEIR SHEEP, LIVING AND DEAD, TO THE POLLS. THE OVERFLOW RALLIES ARE NOT ENOUGH.
HILLARY LOSES IT! Goes Off On 'Bill Clinton Is a Rapist' Protester at FL Rally

Democratic Party presidential nominee Hillary Clinton angrily reacted to a protester shouting "Bill Clinton is a rapist" at a campaign rally in Fort Lauderdale, Florida Tuesday night, saying, "I am sick and tired of the negative, dark, divisive, dangerous vision and behavior of people who support Donald Trump," according to reports.
Black Church Leaders Ask Hillary If She Will Give Them the Same Respect She Gives 'Wealthy White Donors'

SHE'D JUST AS SOON THEY STAY ON THE PLANTATION EXCEPT FOR ELECTIION DAY.
As men and women of faith, they are concerned that she will be complacent or on the wrong side of the abortion issue. In the section of the letter entitled "Justice for the Unborn," the leaders note the dire situation in New York City, where more babies were aborted than born.
"How do you justify your unconscionable silence in the face of such destruction of innocent black life?" they write. "Don't black lives matter? What policies would you pursue as president to reverse the soaring abortion rates among black women?"
The black pushback to Hillary Clinton: A coalition of African-American clergy could spell trouble

On Monday, a group of ministers and theologians affiliated with the Church of God in Christ (COGIC), an evangelical Christian denomination with more than 6 million members, marched to Clinton's Brooklyn headquarters to drop off a sternly worded "Open Letter to Hillary Clinton Regarding Religious Freedom for Black America."
They are a world away from the popular caricature of black ministers as hustlers who spend more time on scheming than salvation. These are folk who aren't looking for money, favors, fame or photo ops.
Influence peddling, acting for Putin's ally, hiding classified secrets and sexting – how FIVE separate FBI cases are probing virtually every one of Clinton's inner circle and their families
Scale of FBI investigations into Clinton's closest aides and friends is becoming clear
Besides Huma Abedin, a swathe of long-time loyalists are at the center of investigations including Virginia governor Terry McAuliffe
John Podesta ran the Clinton Foundation which is under investigation while his brother Tony is also focus of a probe about foreign corruption
Cheryl Mills already received limited FBI immunity during Clinton email investigation – and is key Clinton fixer
String of other names are being looked at or have been caught up in earlier scandals


ALL THESE INVESTIGATIONS WILL GO AWAY ONCE SHE GETS THE POWER
Leaked Memo: Hillary Wants Clinton Foundation To Keep Accepting Foreign Donations

Hillary indicated to staffers that her personal preference is for the foundation to continue accepting money from foreign governments, even if she gets elected president, according to a leaked memo.
Additionally, the Clintons were hesitant to put limits on the foundation's financial operations, for fear of missing out on "unexpected opportunities," the memo reveals.
HER LUST FOR WEALTH IS A SICKNESS
Tom Cotton NUKES Clinton Foundation: 'Largest Money Laundering… Operation In The World'

"We now know there were no fewer than four FBI investigations into the Clintons and their close associates — the Foundation, the emails, Abedin and Weiner and Terry McAuliffe, the governor of Virginia," he continued. "And I suspect that that was a very high-ranking Department of Justice political appointee who was carrying water for the Clinton machine and wanted to shut down an investigation into the Clinton Foundation, which increasingly looks like one of the largest money laundering and influence peddling operations in the world."
"This is why if Hillary Clinton wins this election and they don't shut down the Clinton Foundation and come clean with all of its past activities, then there's no telling the kind of corruption that you might see out of the Clinton White House," Cotton demanded.
"They did it in the State Department. Of course, they're going to do it in the White House."
Documents Show KADZIK, PODESTA, and CLINTON Got Mark Rich Pardoned

PODESTA HAS REFERRED TO KADZIK AS THE MAN WHO 'KEPT HIM OUT OF JAIL.'
KADZIK IS NOW HEADING THE NEW E-MAIL INVESTIGATION.
NO CONFLICT OF INTEREST THERE.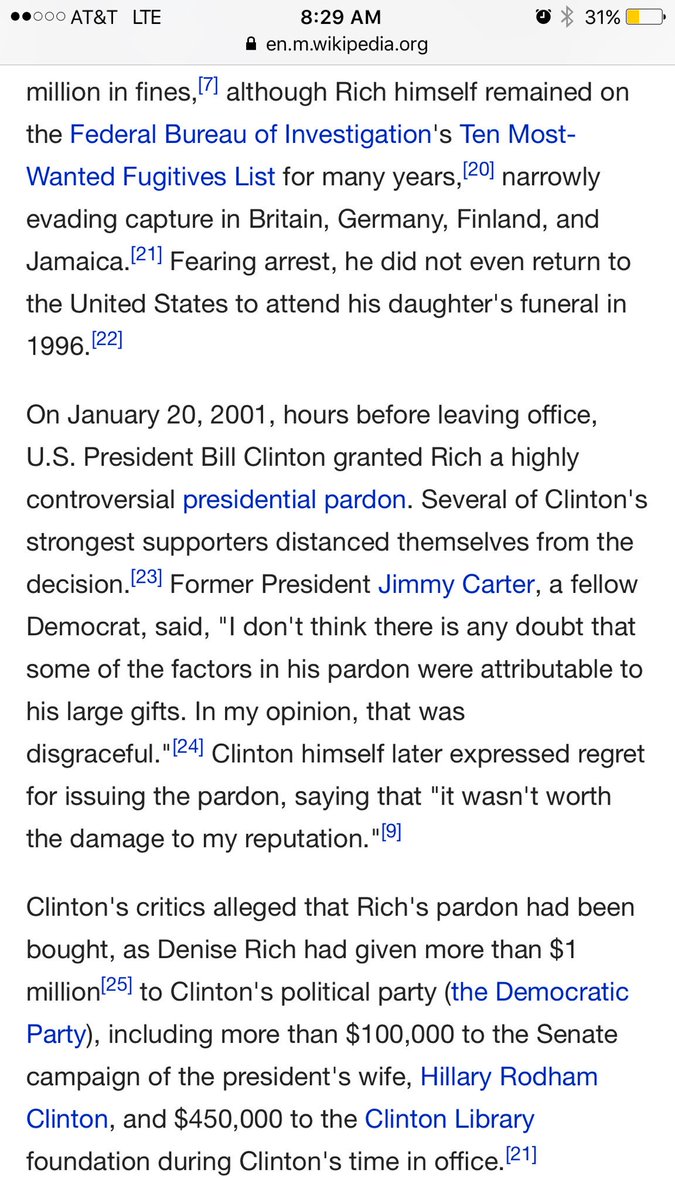 Long-suffering wife of politics-obsessed Texas county commissioner pleads with viewers to re-elect him so she can get some peace in hilarious ad campaign
A new ad has been called the best of the year and it's not a presidential clip
Gerald Daugherty is running for re-election as Travis County Commissioner of Precinct Three in Texas
In the clip, his wife Charlyn begs for voters to re-elect her husband
Mainly because she can't stand his endless government talk in the house
Since the clip was posted earlier this month, it has almost 3.4 million views

Scientists Are Using "Methane Backpacks" To Reduce The Impact Of Cow Farting On The Environment


YOU PROBABLY WOULDN'T NOTICE IF YOU WERE NEVER ON A FARM, BUT THE ANIMAL PICTURED IS NOT A COW… IT'S A BULL.
"There are a lot of factors or buckets that go into agricultural emissions, but livestock tends to be one of the largest focuses," said David Nicola, portfolio manager of the Gratitude Railroad Farmland Fund, which launched this week and is targeting $40 million in capital commitments focused on regenerative agriculture
ANIMALS EAT, THEY FART. THIS IS NOT A STRETCH.
"There are a lot of factors or buckets that go into agricultural emissions, but livestock tends to be one of the largest focuses," said David Nicola, portfolio manager of the Gratitude Railroad Farmland Fund, which launched this week and is targeting $40 million in capital commitments focused on regenerative agriculture
Biden On Trump: "I'm Not Even Sure He Thinks There's Gravity"

Because Biden is smarter than Trump.
BIDEN DIDN'T HAVE TO BUILD AN EMPIRE OF HOTELS, CASINOS, AND OTHER BUSINESSES. HE'S JUST BEEN SUCKING ON THE GOVERNMENT TEAT HIS ENTIRE ADULT LIFE.