Seeing our Chrissy well enough to post again puts everything in perspective doesn't it?
Family and your health are all that really matter. Politics are a bunch of crap.
Joe Biden Wishes He Could Take Donald Trump 'Behind The Gym'

TOUGH GUY
"The press always asks me: don't I wish I were debating him," Biden said. "No, I wish we were in high school—I could take him behind the gym. That's what I wish."
Clinton Promptly Ends Press Conference When Asked About Project Veritas Videos
THE IMPERIOUS ONE MUST NOT BE QUESTIONED
"You know, I know nothing about this," she told reporters on her campaign plane. "I can't deal with every one of his conspiracy theories, but I hope you all have something to eat and something to drink on the way back to New York! Thank you."
NOW,GET THE F*CK AWAY FROM ME!

Hillary Clinton so far ahead in polls that she 'doesn't even think about' Donald Trump anymore

HELLO, CHRIS… JUST DO YOUR JOB AND STICK TO THE SCRIPT
Buoyed by a double digit lead in some national polls, Mrs Clinton has said she is now looking past Mr Trump entirely, and will no longer counter allegations made by her rival.
"I don't even think about responding to him anymore," Mrs Clinton said when asked about Mr Trump's charge that American media outlets are in cahoots with her presidential campaign.

Left-Wing Berkeley Protesters Demand 'Spaces of Color', Harass White Students Trying to Pass

Left-wing students at the University of California, Berkeley are protesting again. This time, however, these students are calling for "safe spaces" for transgendered people, as well as "spaces of color" at the University (which they already have).
The protesters are also harassing white students trying to study, barring their path across a key bridge while allowing students of color safe passage.
Obama Claims He's Never Experienced a Major Scandal

"Here's a guy who called my administration perhaps the most corrupt in history — despite the fact that actually we have not had a major scandal in my administration," Obama said.
Why bother. We already know the president lives in his own reality. Last week, he gave a glowing review of his Affordable Care Act, arguing it has improved Americans' wellbeing – even if they don't know it.
I dare him to repeat that when these premium hikes arrive.
WSJ: Terry McAuliffe Sent Big Bucks to Wife of FBI Official Involved in Clinton E-mail Case
ONCE A PUNK ALWAYS A PUNK
The political organization of Virginia Gov. Terry McAuliffe, an influential Democrat with longstanding ties to Bill and Hillary Clinton, gave nearly $500,000 to the election campaign of the wife of an official at the Federal Bureau of Investigation who later helped oversee the investigation into Mrs. Clinton's email use.
Campaign finance records show Mr. McAuliffe's political-action committee donated $467,500 to the 2015 state Senate campaign of Dr. Jill McCabe, who is married to Andrew McCabe, now the deputy director of the FBI.


WikiLeaks: Chelsea Clinton worried family's foundation would lose nonprofit status

NOW WE'LL GET THIS HOWDY-DOODY-LOOKING HACK IN OUR FACES FOR THE NEXT 8 YEARS
Bill Clinton was cited as one of the worst offenders. Band complained to Podesta that the former president accepted personal paychecks from three separate Clinton Global Initiative donors and took home "expensive gifts" from other contributors.
In the conversation between Mills and Chelsea Clinton, Mills said Bill Clinton spent "more than half of his allocated time" on "political, for-profit, personal" activities as one reason the foundation needed to address "overlapping accountabilities."
Former Democrat Attorney General Of Pennsylvania Sentenced To Jail Time

WHEN THEY GET CAUGHT THE FIRST THING THEY DO IS WHINE ABOUT "THE CHILDREN"
The former attorney general of Pennsylvania, who was convicted in August on nine criminal charges, including perjury and conspiracy, was sentenced Monday to 10 to 23 months in jail. Kathleen Kane, 50, left office in August while facing the charges for having orchestrated a leak of secret grand-jury documents to plant a negative story about her political opponent, former state prosecutor Frank Fina.
Kane was also later found to have lied about her actions under oath. Instead of jail time, the former top attorney sought either probation or house arrest instead of jail time. During her sentencing hearing, Kane reportedly said, "I don't care what happens to me," but pleaded with the judge to have "mercy" on her two sons, whom she said a jail sentence would affect the hardest.
Reid: Dems would nuke Supreme Court filibuster

SHE'LL GET HER NOMINEE IN SHORT ORDER. IF THEY DON'T GIVE YOU WHAT YOU WANT, JUST TAKE IT.
"I really do believe that I have set the Senate so when I leave, we're going to be able to get judges done with a majority," Reid said. "And, it's clear to me that if the Republicans try to filibuster another circuit court judge, but especially a Supreme Court justice, I've told 'em how and I've done it, not just talking about it. I did it in changing the rules of the Senate. It'll have to be done again."
Oprah on Hillary: You Don't Have to Like Her To Vote For Her

SHE MADE HUNDREDS OF MILLIONS OFF WHITE WOMEN…NOW SHE CAN JUST BE HER LIBERAL SELF
'These sick animals held her down and kicked and stomped on her': Father's anger after flash mob of 30 to 40 teens beat his daughter near Temple University
Four teenagers aged between 15 and 17 have been arrested after a series of attacks around Temple University's campus in Philadelphia
Police said the attacks were carried out by bands of up to 100 juveniles who roved the campus for nearly two hours
Cops said 50 juveniles were taken into custody as a result
In separate attacks, police said students and others were surrounded and then punched, kicked, robbed ground by groups of 20 to 30 teens
Joe Lauletta says his daughter Christina was a victim and that 'every part of her body is badly bruised'
In a different incident, a teenage boy threw a Temple officer to the ground
Another 15-year-old boy punched a police horse twice in the face as mounted officers were trying to break up a crowd
WE ALL KNOW WHAT "TEENS" IS CODE FOR, DON'T WE?

THEY DESERVED IT…THEY COMMITTED THE CRIME OF BEING WHITE
Little Rock man, 22, jailed as woman's attacker; victim shocked at power substation

 Little Rock police arrested a man Wednesday in a sexual-assault case earlier this month in which a woman ended up climbing an electrical structure to get away and caused a power failure.
Courvoisiea Allen, 22, was arrested on multiple felony charges including rape, criminal attempt to commit capital murder and first-degree battery.
The woman told police that Allen held a pocketknife to her throat, forced her to perform oral sex and told her the attack was "payback for all the things that your people had done to my people for centuries," the affidavit states. The woman reportedly said Allen chased her over a razor-wire fence into the power station, where he pointed a gun at her and threatened to shoot her if she didn't climb down.
Soros Group Accused Of Violating Arizona Election Law In Bid To Elect Democrats

A campaign finance violation complaint has been filed with the Maricopa County Recorder's Office against a newly formed independent political committee linked to hedge fund tycoon George Soros.
Soros has been spending millions of dollars this year to support Democrats in prosecutor races around the country and all but one of his favored candidates have won.
Phoenix lawyer Brett Johnson says the law requires political committees making independent expenditures to a candidate or office within 60 days of an election to provide 24 hours' notice to opponents about submitted print or television ads.
SNL: Tom Hanks as Trump Supporter in Black Jeopardy Spoof. Hilarious!

James O'Keefe Video: Hillary Clinton Ordered Donald Duck Trolling at Trump Events

The Hillary Campaign's coordination with outside groups Americans United for Change is not allowed under federal law.
Then again, since when did Hillary Clinton follow the law?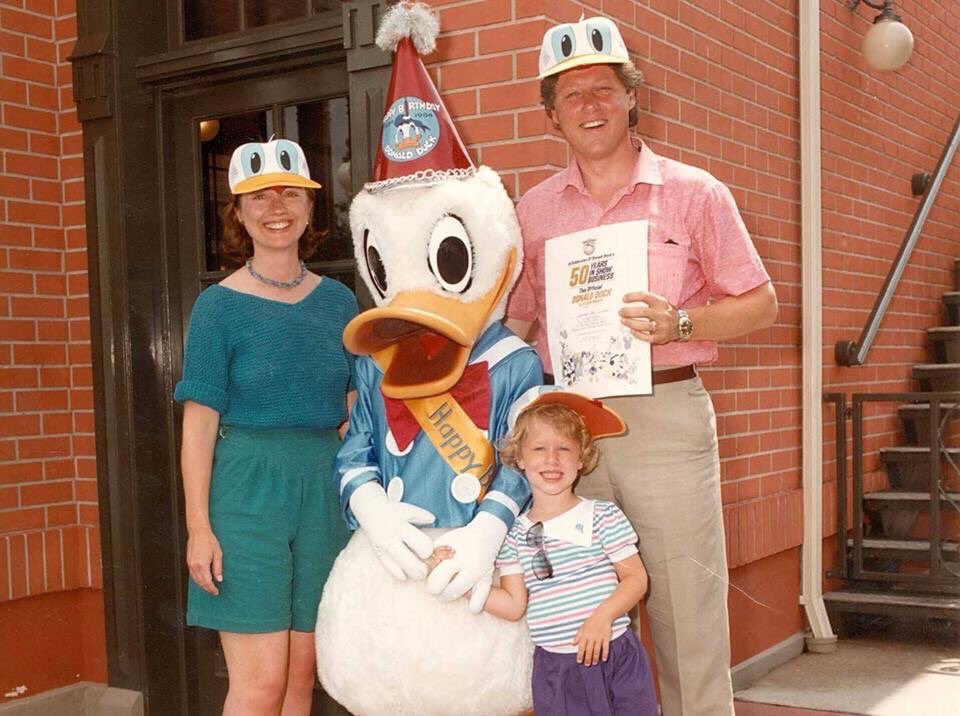 JUST FOR CHRISSY!
PANTS ON THE GROUND…LOOKIN' LIKE A FOOL WITH YOUR PANTS ON THE GROUND