Another load of useless crap. Take solace in the fact it will all be over soon.
Industry: Obama unraveling rule of law with Dakota Access stoppage


THE COURT SAID THE WORK CAN CONTINUE.
OBAMA SAID 'F*CK THE COURT.'
"We write to express our deep concerns over recent actions that took place in North Dakota to effectively ignore the rule of law in an attempt to halt infrastructure development," the letter reads, reminding Lynch that "one of our nation's founding fathers, John Adams, once wrote that the United States is a 'government of laws, and not of men.'"
Video Appears to Show Hillary Clinton Staffer Feeding Questions to Reporters During Post-Debate Presser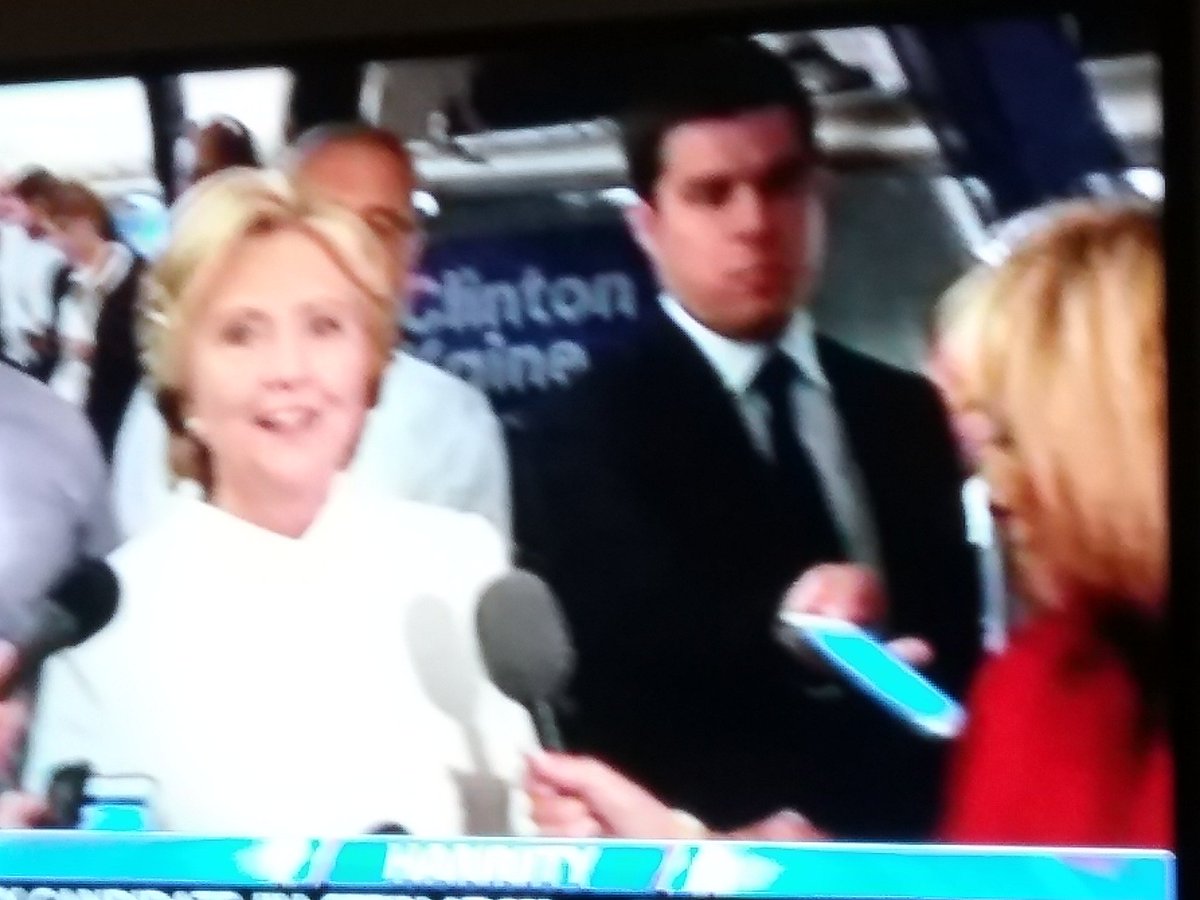 Standing behind Clinton, Merrill can be seen pushing his smartphone past Clinton into the face of NBC News reporter Andrea Mitchell who looks down to read the message on Merrill's phone. Merrill makes intense eye contact with Mitchell and cracks a furtive half-smile at her.
Moments later Mitchell asks a softball question favorable to Clinton about Trump calling her a "nasty woman" and a "puppet" during the debate.
'I am the least racist person you've ever met!'
Furious Trump WALKS OUT of interview when reporter asks him about sexual assault and race claims
Trump was being interviewed by NBC4's Colleeen Marshall
She began question saying, 'You've been labeled a racist, called a sexist'
Trump interrupted her, said 'Thank you very much' and began to walk away

THE MEDIA SHILLS SET TRUMP UP TO BE DESTROYED AND IT WORKED BEYOND THEIR WILDEST DREAMS
Trump Taunts Biased Media at PA Rally; Crowd Roars! –

THIS IS REMINISCENT OF PAT BUCHANAN'S PITCHFORK BRIGADES. IT DIDN'T HELP HIM EITHER.
Mook Struggles to Defend Clintons, State Department Over Haitian Rebuilding Contracts

"In an email that was hacked by WikiLeaks, and I know that the talking point from the Clinton campaign is this is the Russians trying to infiltrate, but beyond that there is the substance of this email," Tapper said. "We learned that the King of Morocco wanted to contribute $12 million to the Clinton Foundation last year, but he only wanted to do it if he could get a face-to-face meeting with Hillary Clinton.
Democrat doesn't know the difference between Wikipedia and Wikileaks

SHEILA JACKASS LEE HAS A DOUBLE DIGIT IQ, WHICH MAKES HER AT LEAST TWICE AS SMART AS THE WELFARE-SUCKING, RACIST MORONS IN HOUSTON THAT KEEP ELECTING HER
Appearing on MSNBC on Friday, Lee put her foot in her mouth again when she insisted that Russia was using the encyclopedia website Wikipedia to affect the American election.
"You know that first of all I'm going to denounce the utilization of this intrusion by Wikipedia through Russia," Lee said.
The website leaking information is Wikileaks, not Wikipedia.

Thousands of California soldiers forced to repay enlistment bonuses a decade after going to war
Short of troops to fight in Iraq and Afghanistan a decade ago, the California National Guard enticed thousands of soldiers with bonuses of $15,000 or more to reenlist and go to war.
Now the Pentagon is demanding the money back.
Nearly 10,000 soldiers, many of whom served multiple combat tours, have been ordered to repay large enlistment bonuses — and slapped with interest charges, wage garnishments and tax liens if they refuse — after audits revealed widespread overpayments by the California Guard at the height of the war's last decade.
"They'll get their money, but I want those years back." — Susan Haley, former Army master sergeant

THERE IS ABSOLUTELY NO DEPTH THESE DEMOCRAT PIGS WILL NOT STOOP TO. I'M SICK OF IT.
Former Prosecutor: The Clintons Are So Corrupt, Everything 'They Touch Turns To Molten Lead'

"You give, you get. You give, you get. And, if you don't give, you don't get," diGenova says in this video. It was "the single most corrupt Department of State in the history of the country."
DiGenova compared the prosecution of former Virginia Gov. Bob McDonnell — a Republican — to Hillary Clinton who, he says, was went unprosecuted, yet endangered American lives and operations. The lawyer suggests Hillary Clinton's epithet on her tombstone might well be "She got away with it."

How character didn't count against the Clintons this time

The Clintons are benefiting from outrage over Donald Trump's character flaws and treatment of women, a turnaround that must be stunning to some of Bill and Hillary's longtime critics. Hillary Clinton now speaks of America being great only because it is good, a phrase social conservatives liked to quote when arguing against the Clintons
The GOP Could Lose Utah For The First Time In The Super Bowl Era

IF TRUMP LOSES UTAH IT COULD BE A LANDSLIDE DEFEAT OF REAGANESQUE PROPORTIONS
Media Pushing How Great Michelle Obama Is

"IS THAT A CUCUMBER OR ARE YOU GLAD TO SEE ME?"
"IT'S A PENIS."
They want Hillary, followed by Michelle, figuring if they can get Hillary in with all her baggage, they should have no problem with Michelle.
"Does she have more power than he does in this election?" Reid asked.
Earnest said that she is a persuasive speaker who can make a purposeful case for Clinton to be the next president.
"Yes, I think the president would admit that his wife is an enormously influential and powerful surrogate in support of Secretary Clinton," he added.
Earnest said that the first lady was very talented at delivering a speech.
A Vegas Gun Store Owner Is Running a Pre-Hillary Sale

In an advertisement over the weekend in the Las Vegas Review-Journal, Westside Armory said it was holding a "Pre-Hillary Sale" on tactical rifles, warning of a price surge if the Democratic nominee wins the presidential election next month.
"Don't wait!" the advertisement reads. "Prices will skyrocket after Crooked Hillary gets in."
Morning Joe Highlights Democrats Claiming 2000 and 2004 Elections Were Unfair, Stolen

THEY DIDN'T GET AWAY WITH STEALING THEM, THAT'S THEIR GRIPE.
Trump has repeatedly said on the campaign trail the election is "rigged" in favor of his Democratic opponent Hillary Clinton and that the whole electoral system is unfair. Trump has received criticism from Democrats and members of the media for this talking point. However, Morning Joe noted that Democrats have a history of claiming that elections were unfair or stolen.