The last debate is tonight. The last chance for Trump to talk about our next president in a manner that no other republican has the balls to. It's been quite a show, hasn't it? Complete with dogs and ponies. First, the media backed Trump for ratings and to make sure all serious candidates were disposed of. That done, they could concentrate their venality on seeing Trump would be reduced to little more than a novelty act. Sure, he draws turnaway crowds in the thousands because he tapped into the smoldering anger decent Americans have at being sold out by the people who supposedly represent them.
Understand, I support Trump only because the alternative is unthinkable. Millions of voters, I'm sure, feel the same way. When it comes down to it, he has no chance. After he fired his first manager and consulted with his family he came out with a coherent message that wiped out Clinton's lead in the polls. Seeing this, the Enslaved Press sprang into action and began throwing distractions to knock him off message, which he always did. I will always be of the opinion that Trump was never a serious candidate, just an emotional outlet for a disgruntled populace to vent their frustrations. Don't look to see the Dowager Queen in public until after election day.  She doesn't have to make any kind of effort. She has surrogates to defend the indefensible until the illegal votes and rigged machines do their work.
Las Vegas Debate: Can Donald Trump Turn Things Around?
Wallace says the planned topics for the debate are debt and entitlements, immigration, economy, Supreme Court, foreign hot spots and fitness to be president.

But two political issues that are likely to come up: the recent accusations of lewd behavior against Trump and the WikiLeaks release of emails from Clinton campaign chairman John Podesta's email account. And another issue sure to be mentioned: in recent days, Trump has emphasized his argument that the election is "rigged" against him.
Here Are 3 New Cases of Voter Fraud

Many on the left, however, are unconcerned with the protection of each individual's vote. They quickly dismiss voter fraud as a myth meant to justify voter suppression. Perhaps progressives are so quick to kill the debate because they know that the facts are not on their side.
Indeed, voter fraud is a very real and ongoing threat to the integrity of the political process, and The Heritage Foundation's "Does Your Vote Count" project tracks this "nonexistent" problem. Today, we are adding 16 new confirmed convictions for voter fraud to our voter fraud database. That brings the count to over 430 criminal convictions for election fraud.
Hundreds of NJ votes might not be counted because of Post Office error


Clerks in at least three Republican-heavy counties have reported that hundreds of mail-in ballots were erroneously returned to voters instead of being delivered to the county election boards.
The problem is with new Post Office equipment that was unable to properly read the mailing address on some — but not all — ballot envelopes mailed by voters.
OBAMA PLEDGES TO RIG VOTING MACHINES FOR HILLARY UNDER GUISE OF PROTECTING AGAINST CYBER THREATS

Voting Machine Caught on Camera Casting Ballot for Democrat when Selecting Republican
THIS IS HOW IT'S DONE; IT'S CALLED VOTE FLIPPING


1.8 Million Dead People on Voter Rolls, 2.75 Million Registered in Two States

** Approximately 24 million—one of every eight—voter registrations in the United States are no longer valid or are significantly inaccurate.
** More than 1.8 million deceased individuals are listed as voters.
** Approximately 2.75 million people have registrations in more than one state.

Rigging Elections

Democrats and their auxiliaries in the media routinely boast of their dream of turning America into a one-party state through changing who gets to vote in American elections.
Strikingly, this vast conspiracy to dilute the sovereignty of American voters by inviting in ringers from abroad is not covered up, nor even excused as aggressive-but-legal political hardball.
To protest, or even to notice, the open machinations to adulterate the value of your vote by importing millions of foreigners to increase the numbers of votes cast for the Democrats brands you as a deplorable.
'Wall' of Taco Trucks to Line Up at Trump's Las Vegas Hotel in Protest

The threat of taco Trucks taking on every corner is coming close to being true in Las Vegas before the third presidential debate — where opponents of GOP nominee Donald Trump plan to create a "wall" of them in front of the Trump International Las Vegas hotel Wednesday.
Obama in 2008 Boasts to Ohioans 'It Helps' That Dems Are 'in Charge of' Voting Machines

You know, whenever people are in power, they have this tendency to try to, you know, tilt things in their direction. That's why we have got to have, I believe, of voting rights division in the Justice Department that is non-partisan and that is serious about investigating cases of voter fraud, is serious about making sure the people are not being discouraged to vote.
Clinton wants change to handshake protocol at final debate
Democratic presidential nominee Hillary Clinton's campaign has asked to change the setup of the pre-debate greetings on Wednesday night, The New York Times reports.

HORNDOG JUST WANTS TO GET CLOSE TO A WOMAN HE CAN ONLY DREAM ABOUT
At the previous two debates, the spouses of both candidates have met to shake hands. But this time around, former President Bill Clinton and Melania Trump will enter the debate hall in a way that avoids having the families cross paths.
Vandals throw bricks through windows at Delaware County Republican Party office
Someone threw two landscaping bricks through a window on Oct. 8. Signs for Donald Trump and Todd Young were hanging on the window at the time, according to the group's Facebook page.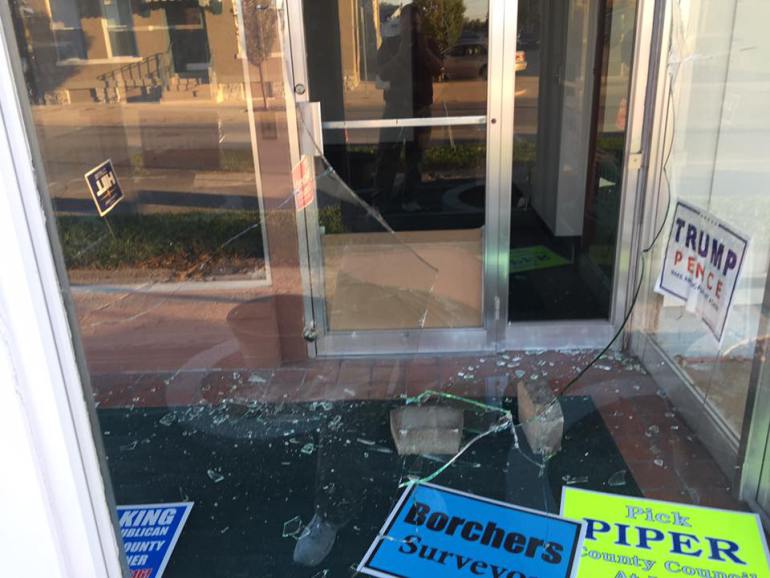 Illegals seeking asylum up 900%, get Social Security, welfare, school loans
While about 8,000 mostly Latin Americans in 2009 sought asylum, the number is expected to reach 80,000 or more this year, according to a projection from the Center for Immigration Studies.
IT'S CALLED DEMOCRAT JOB SECURITY


Malik Obama to Attend Vegas Debate Cheering for Trump

President Obama's Kenyan-born half-brother Malik will be in the audience in Las Vegas Wednesday night when Donald Trump and Hillary Clinton square off in their third and final debate.
Malik — an American citizen who lives in Washington, DC, when he's not in Kenya — says he will be a guest of Trump, the Republican nominee he supports for president.
"I'm excited to be at the debate. Trump can make America great again," Malik told The Post.
"I look very much forward to meeting and being with Malik," Trump said. "He gets it far better than his brother."
McCain Promises A United Republican Front To Block Clinton SCOTUS Nominees

BULLSHIT. THIS DUPLICITOUS LITTLE TWATWAFFLE WILL BE THE FIRST TO "REACH ACROSS THE AISLE" IN THE SPIRIT OF 'BIPARTISANSHIP' TO APPROVE A JUDGE THAT WILL EFFECTIVELY SNUFF OUT THE SHREDS OF OUR CONSTITUTION THAT HAVE SURVIVED THE OBAMA ONSLAUGHT.
"I promise you that we will, we will be united against any Supreme Court nominee that Hillary Clinton — if she were president — would put up," the Arizona Republican told a Philadelphia radio station on Monday. "This is why we need the majority."
To win control of the Senate, Democrats need to pick up four seats on Nov. 8, or five if GOP nominee Donald Trump wins the White House, a goal they expressed confidence in achieving last week.
IT IS COLD COMFORT THAT IT WILL ALL BE OVER SOON