The big day has arrived. The much-anticipated showdown between the Dowager Queen and the Media Mogul. In the porta-potty that is the NBC complex they are anticipating a viewership in excess of 100 million. There has already been a lot of hype and today promises more of the same.
Clinton team making last-minute play to work the refs ahead of the first debate


The Democratic nominee's communications director, Jennifer Palmieri, has approached members of the press twice this a week with concerns about moderators treating Clinton unfairly. Palmieri warned reporters Friday to be on the lookout for any falsehoods that GOP nominee Donald Trump might repeat during the debate on Sept. 26.
"Debates are about each candidate laying out their vision for America, not making things up. Donald Trump has shown a clear pattern of repeating provably false lies and hoping no one corrects him. Voters and viewers should keep track: Any candidate who tells this many lies clearly can't win the debate on the merits," Palmieri said in a conference call.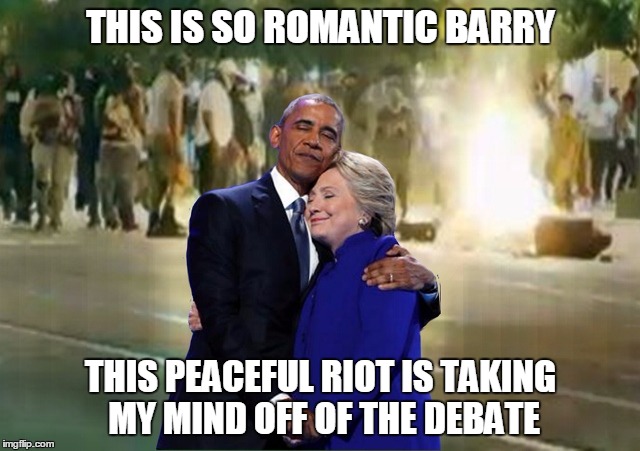 Hillary Gets Super-Sized Podium To Compete With Trump

Before Republican nominee Donald Trump and Democratic nominee Hillary Clinton debate each other Monday, Clinton's podium needed some adjustments.
Trump is a towering 6'2″ and Clinton is only 5'4″. To even the height field, Clinton's podium now has plywood placed in the middle, according to WABC Radio Host Rita Cosby. The WABC journalist gained exclusive access to the podiums, which not only show Clinton's is now a bit larger than Trump's, but that there is also a small box Clinton might stand on.
Trump, Clinton enter debate facing dramatically different expectations

Mrs. Clinton, a lifelong politician's wife turned politician, is hoping to show she is the only serious candidate. Mr. Trump, a novice politician who battered his way through the Republican primary race with insults and a lack of policy, will be at pains to prove he can behave on the biggest stage.
PAULA JONES Wants to Join GENNIFER FLOWERS in Front Row at Presidential Debate

On Friday the Clinton Campaign announced they were giving Mark Cuban a seat in the front row to troll Donald Trump during the presidential debate on Monday.

MIKE PENCE AND KELLYANNE CONWAY HAVE BOTH CONFIRMED THAT FLOWERS WILL NOT, INDEED, BE IN ATTENDANCE.
THAT'S A GOOD THING BECAUSE IT WOULD TURN THE ENTIRE DEBATE INTO A SHAM AND GIVE THE WAGS AN OPPORTUNITY TO BEAT UP TRUMP FOR PICKING ON A POOR SICK WOMAN. DOES THE NAME RICK LAZIO MEAN ANYTHING TO YOU?
Three Pieces of Debate Advice for Donald Trump


First, corruption. Donald Trump can say, "Hillary, I'll take it at your word that when you and your husband left the Oval Office, you were – as you put it – "broke." I want to know, the American people should know, how it is that you and your husband have since earned over $230 million? Since you left graduate school, the two of you have either been running for office or been in office. The media doesn't seem interested in the question. But the American people deserve an answer. Too many of our public servants are getting rich trading on their political connections. It's not just you, Hillary. Let's take Senator Tom Daschle and Senator Trent Lott – who spent their entire lives in Congress. They are now rich men. I could go on and on.
Report: Lester Holt May Pull a Candy Crowley at First Presidential Debate

CNN's Brian Stelter says Lester Holt is signaling to his NBC colleagues that he may enter the fray in Monday night's presidential debate as a participant rather than a moderator — thanks to intense left-wing backlash over Matt Lauer's performance at the "Commander in Chief Forum" weeks ago.
DON'T THINK HE HASN'T BEEN REMINDED OF HIS JOB, WHICH IS TO PROTECT CANKLES AT ALL COSTS.
Trump's debate strategy: Let Clinton talk
"I think both candidates face huge challenges. Both of them are not well liked by the American people. She's an accomplished debater. But she has a style that is oftentimes grating on people," said Karl Rove, former adviser to President George W. Bush.
The Clinton campaign is pursuing its own unique debate approach — pre-emptively casting Trump as a "habitual liar."

Hillary and the debate rules
Against expectations, the Presidential Debate Commission has adopted rules that do not favor Hillary Clinton. She will have to stand the entire 90 minutes. With no stool. And no commercial breaks. Her campaign's request that she have a booster to make her appear close in height to Donald Trump was turned down.
Look for one or more bathroom breaks. Then look for claims she took meds when she went to the little girls' room.
How could this have happened to Our Gal Hill? Lifezette told us a week ago:
The men and women who run the supposedly "nonpartisan" Commission on Presidential Debates have put their money where their mouths are — and it all has gone to Democrat Hillary Clinton.
THIS ARTICLE WAS WRITTEN TWO DAYS AGO; APPARENTLY THEY CHANGED THEIR MINDS. COLOR ME SURPRISED.


Max Brooks: Clinton's Poll Numbers 'Not Her Fault,' It's Because Media 'Has Forgotten What Their Constitutional Duty Is'

After Clinton's struggles in the polls in Florida came up, Brooks said, "Yeah, but that's not her fault. That's because the media has forgotten what their constitutional duty is."
He continued, "Well, the reason we have a free press, the whole reason it's in the Constitution is to inform us, the electorate about what we're voting on, and they've forgotten that. They think this is a circus. They think this is 'dancing with the stars.' And so, they have given Trump probably a trillion dollars' worth of free press over the course of this campaign."