Good times and bad; euphoria and depression. Life is a constant rhythm of ebb and flow. What separates us from the lower life forms, like reptiles, rodents, and democrats is how we ride the waves and stay afloat and in our right mind.
Monday the fifth team of cable geniuses visited at my request, after I complained about the poor internet service I was getting. I tried to tell them the modem they gave me a month ago after they had cut my cable by mistake was a piece of garbage. They gave me another one, which worked no better. My tech guy had even brought me a new tower with twice the RAM my old machine had and saw no difference. After I went on a classic rant about it not being fair I've suffered for a full month because of their mistakes the guy said he didn't have any different modems with him and that his supervisor would have to intercede.
I received a call from the super about an hour later. After explaining the situation he said he'd go to the warehouse and see what he could find. He came up with a modem for commercial use which didn't have WiFi, which I didn't need since I have no personal devices and don't have a laptop. The same two guys came back to hook it up and it worked fine. God was in His Heaven and everything was right with the world. Then, I got up yesterday morning and Chrome was fine, Firefox was fine, but Internet Explorer had crashed. After spending two hours on the phone with my tech guy nothing worked. His vehicle was in the shop, so I went across town to pick him up and bring him over. He ended up having to uninstall Windows 11 and re-install it. It took care of the situation but it wiped out all my bookmarks and my photo files. I had to call him back to explain how to drag and drop my files so I could view them separately. So went another day of my life I'll never get back.
Hillary's body double' trends after previously limp Clinton spryly pops out of daughter's apartment
DON'T YOU JUST LOVE CONSPIRACY THEORIES?
After Hillary Clinton collapsed Sunday in New York City and reemerged about an hour and a half later from her daughter's apartment, conspiracy theorists began to circulate a rumor that they weren't the same person.
It was hard for some to marry the two images of Clinton, one of her limp body being dragged into an SUV and whisked away from the ceremony and the second of a chipper, spry woman posing for pictures with a child and telling reporters she was "feeling great."
Exactly why Make-up is a billion dollar industry. Lipstick & foundation, people, not #HillarysBodyDouble #Infowars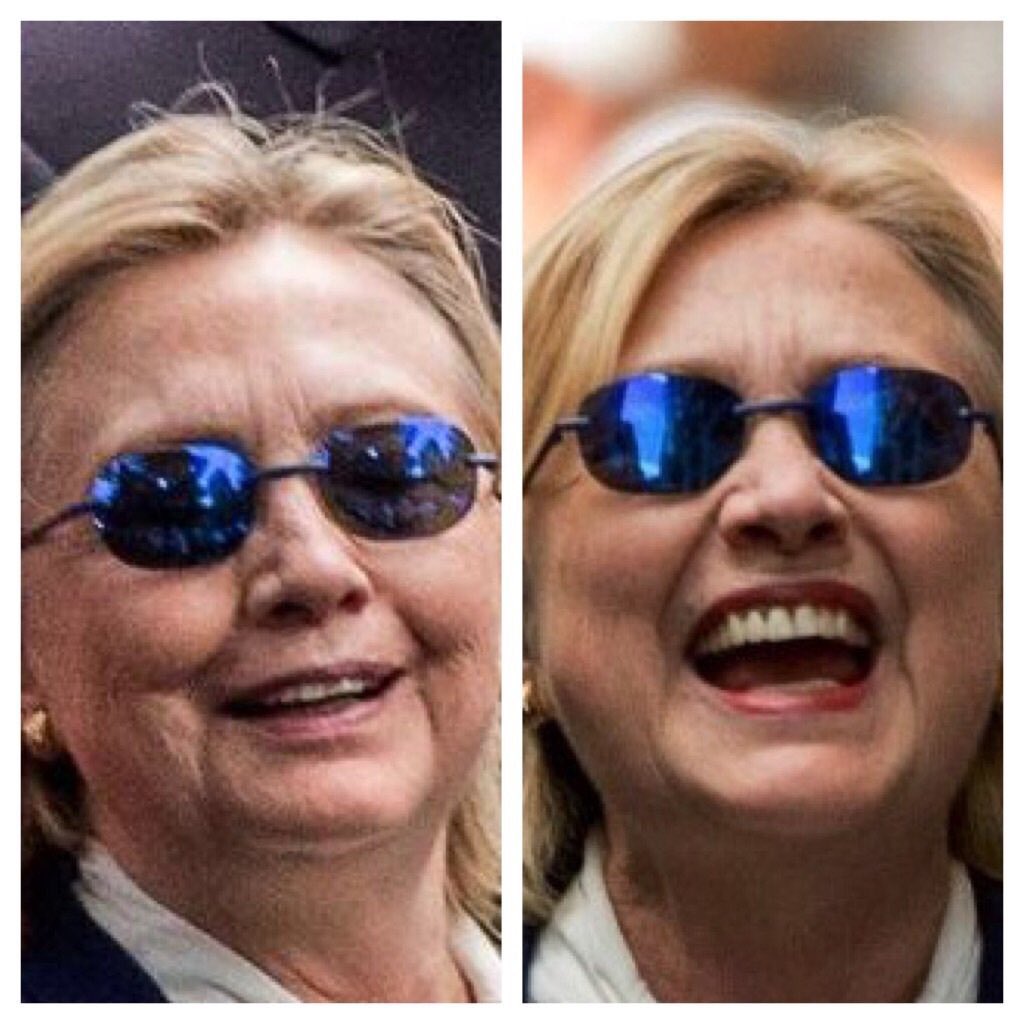 John Kerry's State Department Funneled Millions To His Daughter's Nonprofit


WHY IS IT THAT THE OFFSPRING OF POWERFUL DEMOCRATS END UP MAKING A POT FULL OF MONEY WITHOUT HAVING TO WORK?
More than $9 million of Department of State money has been funneled through the Peace Corps to a nonprofit foundation started and run by Secretary of State John Kerry's daughter, documents obtained by The Daily Caller News Foundation show.
The Department of State funded a Peace Corps program created by Dr. Vanessa Kerry and officials from both agencies, records show. The Peace Corps then awarded the money without competition to a nonprofit Kerry created for the program
Obama Makes Fun Of The 'Workin' Folks' For Supporting Trump
"This guy who spent 70 years on earth showing no concern for working people," Obama continued. "This guy's suddenly going to be your champion?"
"I mean, he spent most of his life trying to stay as far away from working people as he could, and now this guy's going to be the champion of working people? Huh?
QUOTH THE ASSHAT WHO NEVER HAD A REAL JOB IN HIS LIFE

Obama talks about himself 137 times during speech for Hillary
Barack Obama was out stumping for the ailing Hillary Clinton today, but that didn't stop him from talking about himself.
A lot.
The president rallied with Clinton supporters in Philadelphia and when doing so, managed to mention himself 137 times.
He ended, "The time has come for me to pass the baton on but I know Hillary is going to take it and she's going to run that race and she will finish that race and that's why I'm with her.
"That's why I'm fired up. That's why I'm ready to go. And I need you to join me," he continued.
"I need you to work as hard for Hillary as you did for me. I need you to knock on doors. I need you to make phone calls."
PASS THE BATON? WHAT IS THIS? NEXT DEMOCRAT UP?
Man Tried To Run Over 3 Police Officers With His Car In Arizona
A man accused of striking three police officers with his vehicle at a Phoenix QuikTrip early Tuesday has been identified as 44-year-old Marc LaQuon Payne.
An angry Phoenix Police Chief Joe Yahner played a video showing a vehicle pulling out of a parking space, circling the parking lot and then accelerating toward the police officers outside the convenience store.

https://www.youtube.com/watch?v=7OpGd00HQf4
BLACK LIVES MATTER!!
Trump Is Right About Paid Maternity Leave

The responses to Trump's plan to mandate six weeks of paid maternity leave I saw this morning did nothing to change my mind. When I scan Twitter and see conservative journos and consultants and think-tank types decrying this as "a betrayal" on the part of Trump—and even "socialism"—I can't help asking, "How many of you have wives who work at CVS?"
MY FIRST THOUGHT WAS HE'S TRYING TO SABOTAGE HIS OWN CAMPAIGN BY HINTING AT POLICIES EMBRACED BY THE SOCIALISTS

America Talks Live | Roger Stone: DNC Will Pick Michelle Obama If "Gravely Ill" Hillary Can't Go On

WHAT'S WITH THE HAT? IS HE PLATING "THE AVENGERS?"
WATCH: Trump Campaign Manager Gets Into Testy Exchange With CNN Anchor
'Are you calling him a liar?'

EXILED FROM FOX, ALISON CAMEROTA HAS FOUND A GOOD HOME WITH THE REST OF THE OBAMA/CLINTON DEFENDERS
CNN Host Belittles Trump Surrogate — Asks Questions Then Refuses To Let Her Answer
During a panel discussion on Wednesday's broadcast of CNN Newsroom, host Carol Costello repeatedly asked Sarah Huckabee Sanders why Donald Trump has not released a statement disavowing "birther" theories about President Obama, yet refused to let her give a complete answer.
"Why doesn't Mr. Trump address the birther issue once and for all?" Costello asked the Trump campaign senior advisor.
Sanders noted that she thinks Trump has put the issue to rest.

Clinton IT specialist ignores subpoena for House hearing; other witnesses plead 5th
Must be nice to be a Democrat! FBI's James Comey refuses to testify on Hillary's emails
FBI Director James Comey dismissed an invitation to appear before a House Oversight Committee hearing, refusing to testify about the agency's investigation into Hillary Clinton's emails.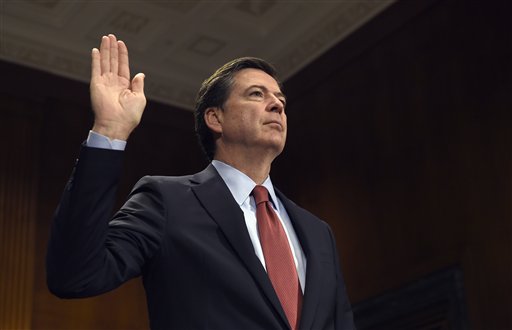 The committee's top Democrat, Rep. Elijah Cummings of Maryland, said Monday that Comey refused to appear at the meeting because he had "already bent over backwards" explaining the FBI's decision in Clinton's email scandal, The Washington Examiner reported.
Apparently a federal employee is allowed to flout the law by throwing a temper tantrum.
MY QUESTION IS: IS HE ON THE CLINTON PAYROLL, OR DO THEY PAY HIM BY THE JOB?
PBS Introduces Lesson Plan To Indoctrinate Students Against Trump Immigration Proposals
Just in time for the 2016 election, San Francisco PBS affiliate KQED is offering a Common Core-ready lesson plan designed for public school teachers who want to indoctrinate students with a love for open borders and a deep suspicion of anyone who favors the immigration restrictions proposed by Republican presidential nominee Donald Trump.


IT BREAKS MY HEART WHEN I THINK OF THE BULLSHIT THEY'RE TEACHING MY GRANDCHILDREN