It's Monday. A couple more geniuses from Comcast just left here. Installed another piece of crap modem. Pages should be loading in seconds, but they're still loading slowly or not at all. After my cable was cut by mistake the next two clowns who came to reconnect my service proceeded to grab the modem that worked fine and replace it with a piece of junk. Today's geniuses were the fifth attempt to get my service right… still couldn't do it. Blew me off by telling me they'd have to have their supervisor contact me because the problem was "above their pay grade." Here I sit, holding my breath waiting for a supervisor to call me right away.
THE MEDIA IS IN FULL PROTECT MODE
MSM Closes Ranks: Calls Hillary's 'Medical Episode' A 'Stumble'
Unbelievable, and not even using her own 'overheated excuse'. She's just hunky dory, she just stumbled. So much so she looked like 'Weekend at Bernie's', dead on her feet and collapsing to the ground, having to be dragged into the van.


Crowley on Clinton Fainting: Weather at 9/11 Event Was 'Incredibly Stifling'

IT WAS 73 DEGREES WITH 50% HUMIDITY….WHEW!
"I didn't see anything unusual, but I can tell you is that many of us continue to have a sigh of relief when a gust of wind would come by because it was incredibly stifling," Crowley said.
Witt then showed still photos from the event of Clinton's attire and commented how she was wearing a long-sleeved suit jacket and that it was dark material. She remarked that Clinton didn't appear to be dressed for the hot weather, but instead dressed for the dignity of the event.
"Oh, For Christ's Sake!" – Reporters React to Staged Scene of Little Girl Running Up to Hillary
The van took her to Chelsea Clinton's apartment.
Hillary later emerged from the apartment and told reporters she was feeling great!
A little girl ran up to hug Hillary when she left the building.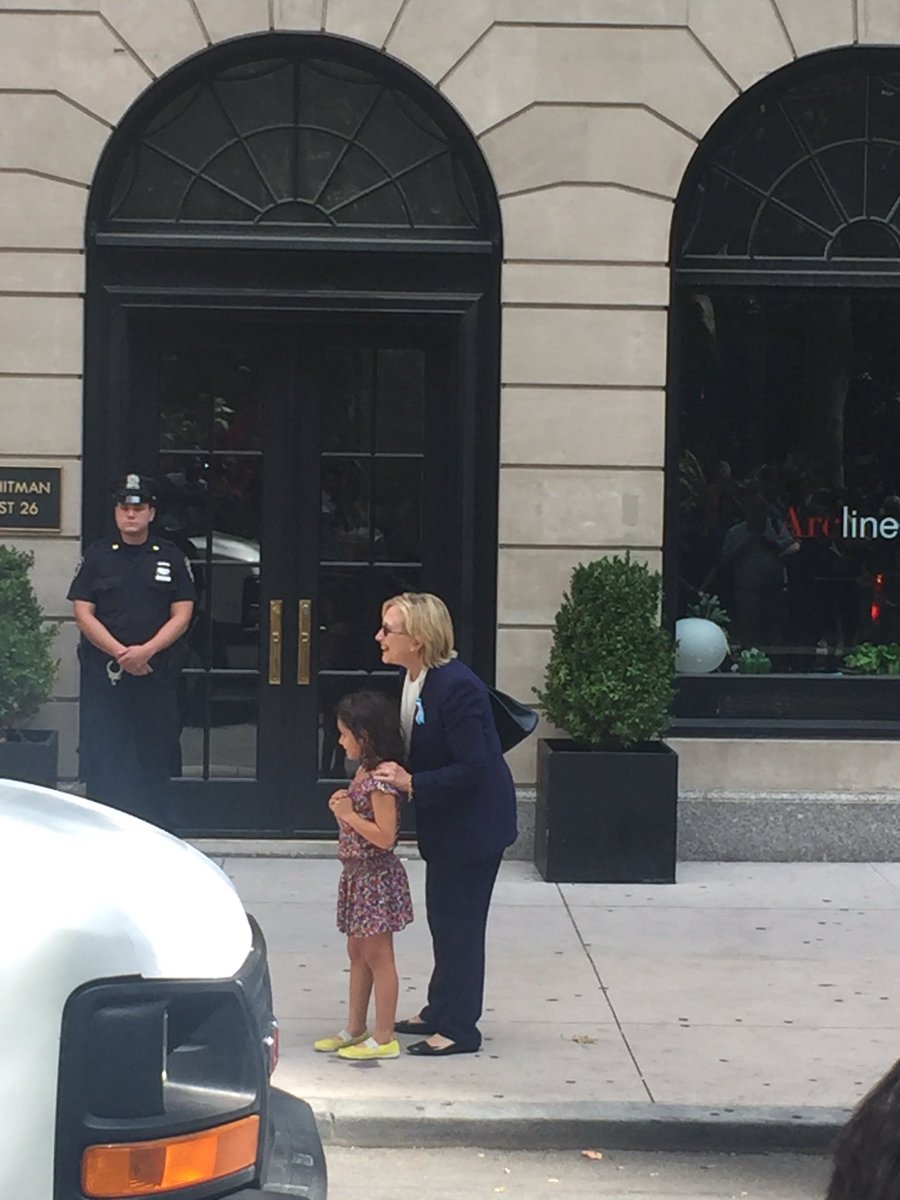 @rickswift @JonathanAlpert She was infused with the blood of a fresh child, should be good for another few hours.
Reporters reacted the staged hug – before their sound was cut!
"For Christ's sake!"

David Shuster: DNC Operatives Say Will Be Holding Meeting To Consider Replacement, If Needed
Now, we report what he is saying with the proviso that Shuster is a hack, so we don't necessarily place a lot of weight on his word.


THEY WOULD HAVE TO WREST IT FROM HER COLD DEAD FINGERS. THERE IS NO WAY IN HELL SHE WOULD SURRENDER HER PLACE.
Dick Morris: Hillary Could Be Replaced by Biden


She won't withdraw unless she has to. But anxious Democrats will be so worried if she fails to be able to campaign and her health escalates as an issue that they might bring unbearable pressure on her to step aside.
Democrats are getting more and more nervous about Hillary's campaign now that she has blown her August lead and settled into a tie with Trump. If she is sidelined for much of the campaign, their worry is likely to reach a crescendo.
In any event Hillary will now be forced to release her medical records, a step she has heretofore resisted and perhaps submit to a new examination.
Be careful what you wish for. Biden would be a lot harder to beat than Hillary.
I FIND MYSELF IN AGREEMENT WITH THE TOE SUCKER. BIDEN IS NOTHING MORE THAN A FOUL-MOUTHED BUFFOON, BUT HE DOESN'T HAVE HER BAGGAGE.
Details emerge on why SEAL hostage rescue failed; Obama was golfing, refused to approve it in time
Two hostages remain in captivity because President Obama couldn't be bothered to approve their rescue while he was on vacation, according to defense officials familiar with the details who spoke to Fox News
The SEALS could not get the go ahead because Obama didn't have time, while on vacation at Martha's vineyard, to give his approval and wanted 24 hours to consider it.
Other officials with knowledge of the situation expressed frustration with the failed mission.
"The hostages didn't have the luxury of time," one official said. "The president was on vacation. How could he not find time to approve this mission?"
The SEALS had everything in motion and were ready to carry out the mission. All that was needed was Obama's approval, but when the radio came on that's not what the team heard.
THE VACATIONER-IN-CHIEF STRIKES AGAIN
9/11 Moment Of Silence Moved Up Because Obama Was Impatient
A source close to the situation told TheDC that Obama arrived early to the memorial service — which took place at the Pentagon — and wanted to get things started early.
A Department of Defense official confirmed that the moment of silence was moved up a few minutes and that Obama was the one who made the decision, saying the president "moved early."


HE HAD A TEE TIME TO GET TO
Massachusetts Attorney General Uses Consumer Protection Law to Attack Glock, Remington
DON'T DOUBT FOR A MINUTE THAT AS SOON AS HILLARY GETS HER FIFTH JUDGE, THERE WILL BE A LAWSUIT MAKING THE SALE OF HANDGUNS ILLEGAL. AND SHE'LL GET IT.


Massachusetts Attorney General Maura Healey is facing legal action because of her use of the state's consumer protection law to demand internal records from several large firearms manufacturers.
Court documents show that Healey is seeking a number of different documents from the targeted companies. Though Healey's office says the investigation is "narrowly tailored," it is trying to obtain company documentation on manufacturing standards, marketing practices, and safety-related complaints from consumers across the country.
DOJ Steps In After Judge Denies Tribe's Request to Stop Pipeline


Once again, the Obama regime runs right over the court's decision.
Muslims urged not to SLAUGHTER ANIMALS in the streets of France at Eid
In France the government has been providing skips because many followers discard their carcasses to rot in the streets after they have killed them.
While it is illegal to slaughter an animal publicly it is allowed for Muslims to go to a slaughterhouse and carry out the act for religious reasons.
However, those breaking the law and killing animals outside of mandated areas became such a problem environmental health departments had to step in to provide bins because sheep carcasses were causing a public health problem.


Thousands of Muslims order sheep and then go to their local abattoirs to kill them to celebrate the feast of the slaughter, while others still carry out the acts in the street.
COMING SOON TO A NEIGHBORHOOD NEAR YOU…. KILLING TO CELEBRATE OUR RELIGION.
SHEEP, WHEN NO CHRISTIANS OR JEWS ARE AVAILABLE


How Disliked is Hillary Clinton in New York? Boo'd at 9/11 Benefit

Majority Of Virginia High School Football Players Take A Knee During National Anthem

FROM THE COMMENTS IT LOOKS LIKE WHITE PEOPLE ARE NOT ALLOWED IN THIS HIGH SCHOOL
A few Commodores players and coach Chris Fraser stood at attention before the game against Grassfield at Powhatan Field, but the majority of the team dropped to one knee as the anthem played.
"Our school system has said, we're of the belief, we let our guys do what they believe in," Fraser said after the team's 17-6 loss to Grassfield. "And so we didn't make an issue of it, and if they believe in a cause, that's fine. I stand behind what they believe in, but I'm going to do what I believe in."
YOU JUST HAD TO KNOW THIS WAS COMING

I'm Deplorable and I'm Proud


Friday night, Hillary Clinton said out loud what our progressive friends have long been thinking. It may cost her the election.
Half of Donald Trump's supporters, claimed Hillary, were merely anxious about the future. The other half belonged in a "basket of deplorables." What made them deplorable, said Hillary, was that they were "racist, sexist, homophobic, xenophobic, Islamophobic, you name it."