There will be no mention of the hackneyed canards "if a republican would have done this" or "anybody else would already be in jail." It's been done to death and there's no point flogging a deceased equine. This post will concentrate on the Dowager Crone, since there are a few non-Hillary-related things today.
Surrogate Silence: Dem officials mum as Clinton battles foundation allegations

As critical reports pile up about the access Clinton Foundation donors enjoyed with Hillary Clinton's State Department – and Donald Trump and his allies hammer her over the allegations – few elected Democrats have rallied to the party nominee's defense.
The fact that many of her usual allies are locked in tight House and Senate races may be contributing to the surrogate silence, as they focus on their own races.
Emails: Commercial Flights Are too 'Burdensome' for Clinton

POOR BABY
Instead of flying between New York and Washington, DC, like a common traveler, Hillary Clinton wanted the Air Force to fly her — because she didn't feel well enough to fly commercial, newly released emails show.
"It's going to rain all day and I still don't feel great so the idea of playing a guessing game w the shuttle is really burdensome to me. What do you think? Could be anytime that works for the Air Force," she added.
Hillary Clinton pegged as 'Islam's Whore' and check out NY Post's OMG cigar cover
Charges of corruption are never far away when it comes to Democratic presidential nominee Hillary Clinton, and her duplicitous relationship with a number of Middle Eastern countries as related to the Clinton Foundation is the latest example of the candidate's unscrupulous actions.
So much so that a British group, Liberty GB, has referred to Clinton as "Islam's whore."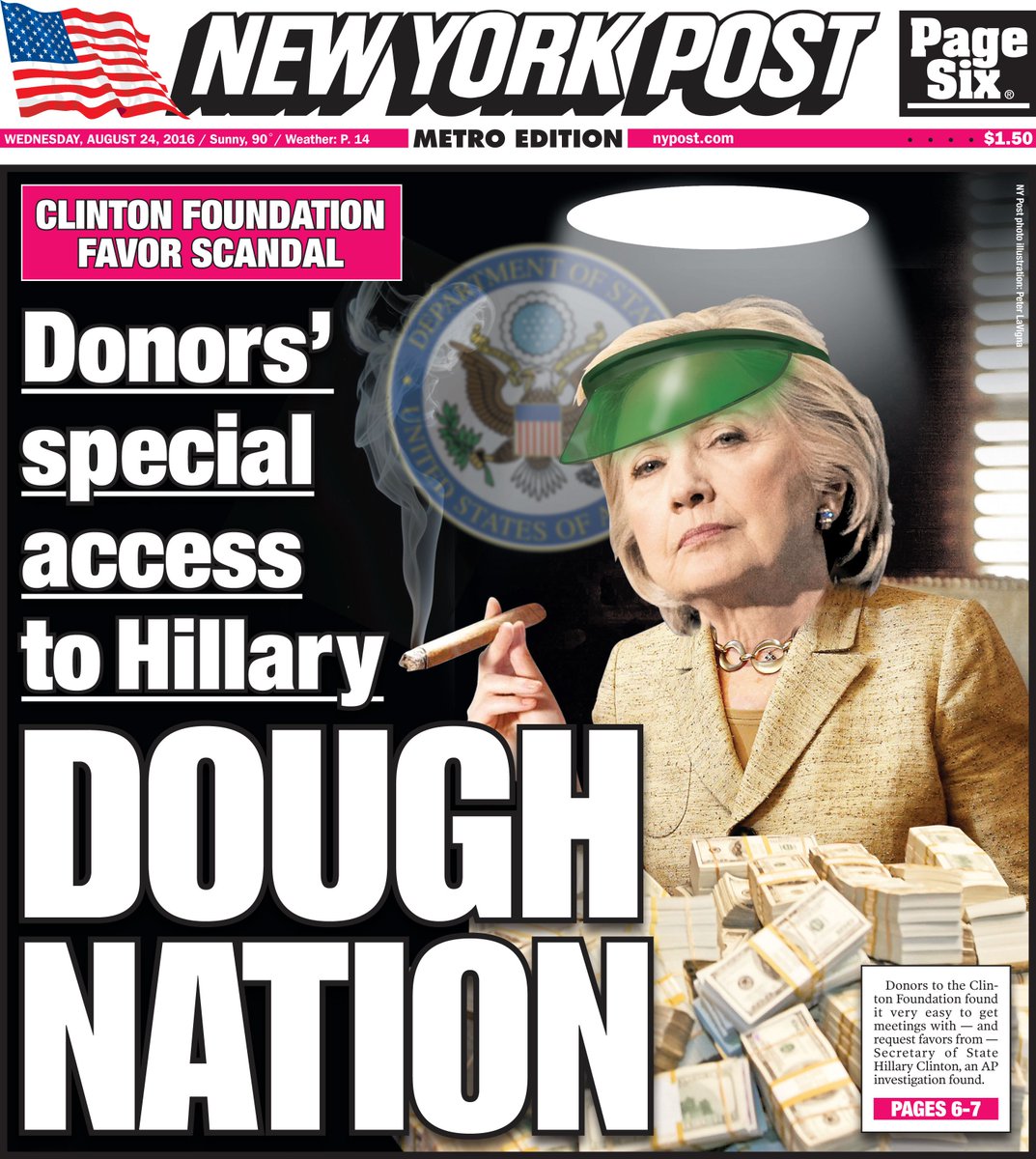 Hillary Clinton 'Refuses' To Fill Out Police Union Endorsement Questionnaire

SHE'S BUSY SUCKING UP TO THUGS
Axelrod: Hillary Clinton's Jokes on Her Emails Show She Is Not Taking Issue Seriously

State Dept Denies Clinton Foundation Donors Had 'Preferential Treatment' After AP Report

Dean: Clinton Shouldn't Do Press Conferences Because Media's Questions Aren't 'Legitimate'






GRANNY HAD A COUCH MADE OUT OF THE SAME MATERIAL AS THESE PANTS… I SWEAR

WE WORE SMOCKS LIKE THIS WHEN WE WERE PAINTING IN GRADE SCHOOL