The focus Tuesday night was on liars, thieves, miscreants, and enablers. Just the usual stuff democrats promote. The Sandernistas stormed the security fence outside the arena, they left the hall in droves after Mme. Pantsuit's name was placed in nomination, the mothers of felons killed by police were shown much love and admiration, and, of course, we were treated to vintage Bill Clinton. There's no need to post the video of his entire speech, since the definition of a pathological liar is someone who lies when it's easier to tell the truth. So the whole thing is a waste of time.
He launched into a long, syrupy, totally ridiculous tale of how he was smitten with this girl in the library and how they formed a union. The whole time, anybody with a pulse is thinking: If he loves her so damn much, why has he been chasing and raping other women, probably since they got into politics, with her tacit approval if not acting as his accomplice. Long-winded, self-aggrandizing, totally in his element as the star of the show. Somehow he managed to skip over 1997-2000, when he was caught literally with his pants down and his subsequent impeachment.
'You should elect her because the greatest country on earth has always been about tomorrow': Bill Clinton gets romantic about 'best friend' Hillary and blasts Trump in lengthy, unedited speech
Bill Clinton told story after story about meeting his wife, about their humble roots, and about her early work
'I married my best friend', he gushed, while speaking of their first mortgage payment being just $175 per month
Mentioned 'good times and bad' – but leaves out any Monica Lewinsky references
The Clintons now have two multi-million homes, and have been slammed during the campaign for making big bucks speeches to Goldman Sachs and other corporations
Took to the stage after a day of discord in Philadelphia which ended with Bernie Sanders supporters walking out
Sanders had interrupted the ceremonial roll call to ask for a vote by acclamation, declaring Mrs Clinton the nominee
Bill Clinton didn't let anyone see his speech in the run up, even guarding it from his wife's advisers
Clinton started his speech simply, recalling the first moment he laid eyes on Hillary Clinton at Yale Law School.
'In the spring of 1971, I met a girl,' Clinton said.
He then traced their personal family story through the years, from his two failed attempts to convince Hillary to marry to him, the birth of their daughter Chelsea and her years supporting him as first lady of Arkansas and the United States


THE WALL ERECTED THE FIRST NIGHT WAS REPLACED WITH REINFORCED PLEXIGLASS YESTERDAY

At DNC, Bill Clinton Talks About How He "Met a Girl"


"I got close enough to touch her back but I couldn't do it. Somehow I knew this would not be just another tap on the shoulder, that I might be starting something I couldn't stop."
Everyone was relieved when Bill finally revealed he was talking about Hillary.
A Career Sexual Predator Makes the Case for Hillary at the DNC
And the lying didn't take too long to get started.


"Hillary Clinton took me through Hell."
Those were the words of a woman who was raped and beaten into a coma when she was twelve years old. Instead of helping that twelve year old girl, Hillary Clinton aided her rapist. She falsely accused the abused child who would never be able to have a family of her own after the assault of "a tendency to seek out older men". Then Hillary Clinton was recorded on tape laughing at how her client had failed a lie detector test while relishing describing how she had gotten him off.
Black Lives Matter movement in the spotlight at Democratic convention


The eight women, known as "Mothers of the Movement", were greeted by chants of "Black Lives Matter" as they took the stage at Philadelphia's Wells Fargo Center. Among their number was Lezley McSpadden, the mother of Michael Brown. Brown's shooting death at the hands of a Ferguson, Mo. police officer in 2014 gave rise to Black Lives Matter and led to anti-police protests around the country.
Sybrina Fulton, whose son Trayvon Martin was fatally shot during a struggle with a Florida neighborhood watch volunteer in 2012, used the stage to call for gun control, saying that Clinton, "has the courage to lead the fight for common sense gun legislation," as well as "a plan to repair the divide that so often exists between law enforcement and the communities they serve."
AND SHE PICKED UP A COOL MILLION AFTER SUING THE HOMEOWNERS' ASSOCIATION.
IT'S ALL ABOUT THE MONEY. MAKE NO MISTAKE.

Protesters Storm DNC Media Tent – TORCH FENCE – Thugs WITH BASEBALL BATS Heading To Convention
BEWARE THUGS WITH BASEBALL BATS


THE BERNIE SUPPORTERS STORMED MEDIA ROW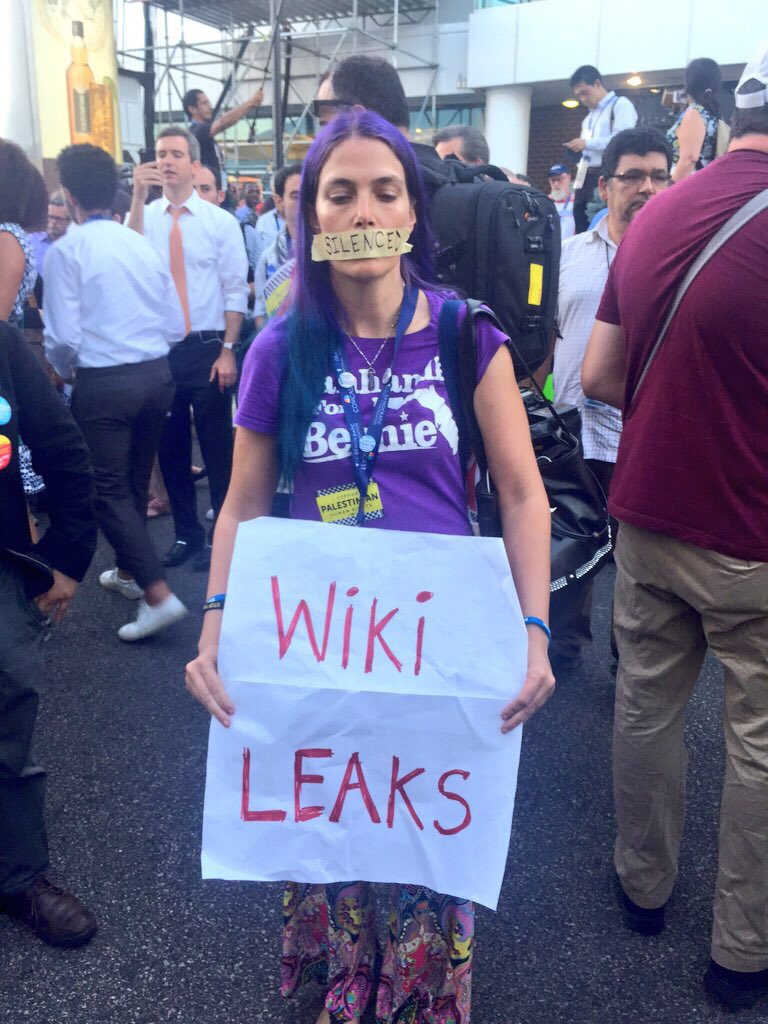 DNC Sought To Hide Details Of Clinton Funding Deal


Leaked emails show the Democratic National Committee scrambled this spring to conceal the details of a joint fundraising arrangement with Hillary Clinton that funneled money through state Democratic parties
The arrangement, called the Hillary Victory Fund, allowed the Clinton campaign to seek contributions of hundreds of thousands of dollars to attend extravagant fundraisers including a dinner at George Clooney's house and a concert at Radio City Music Hall featuring Katy Perry and Elton John. That's resulted in criticism for Clinton, who has made opposition to big money in politics a key plank in her campaign platform.
FROM PROJECT VERITAS
Clinton Delegate Explains How Democrats Will Ban All Guns



Maddow Trashes Bill Clinton's DNC Speech: 'Shocking and Weird'


Maddow said, "A+ for the end of the speech. I think the beginning of the speech was a controversial way to start, honestly, talking about 'the' girl, 'a' girl, leading with this long story about him being attracted to an unnamed girl and thinking about whether he was starting something he couldn't finish, building her whole political story for the whole first half of the speech around her marriage to him. I think, unless there were worries that this is going to be too feminist a convention, that was not a feminist way to start. But the end of the speech was really good."
"I've got to say, the top of the speech I found shocking and weird,"