The Republican National Convention is planned to kick off in Cleveland next Monday. Whether or not the #Never Trumpers manage to deny him the nomination on the first ballot remains to be seen. So far, at least one challenge to the convention rules from a Virginia delegate has been rejected:
Court Sides with Donald Trump and the People – Rules Delegates Cannot Go Rogue at Convention


US District court Judge Robert E. Payne sides with the people and and rules RNC delegates must follow the election results and cannot be stolen at the national election. The delegates must vote according to convention rules and cannot go rogue at convention.
Specifically, the Court found that RNC Rule 16, which binds delegates based on their election results, "is in effect presently and that it controls the allocation and binding of delegates as to their voting at convention." (p. 6) The Court held that the Plaintiff's "expert testimony" from Erling 'Curly' Haugland was not credible, lacked "textual support," (p.6) and that "delegates are bound by RNC Rule 16." (p. 7)
THIS WAS POSTED BY THE TRUMP CAMPAIGN. HOWEVER, IN ANOTHER COURTROOM:
'Never Trump' Convention Delegates Win In Court


Those Republicans hoping to vanquish Donald Trump from the nomination process on the convention floor next week received good news from a federal court in Virginia Monday.
According to a statement from the organization known as Delegates Unbound, a verdict was reached on the right of delegates to vote for whichever presidential candidate they wish at the convention as opposed to casting their ballots that follow the state primary results.
Judge Robert E. Payne ruled in favor of Virginia Republican delegate Beau Correll, who sued the Commonwealth to allow Virginia delegates at the GOP convention to cast their votes for the candidate of their choice on the first ballot instead of the winner of the Republican state primary, Donald Trump.
SAME DECISION, DIFFERENT OPINIONS ABOUT WHO WON. QUESTION IS: WHO CARES?
There are a number of Republican senators who are throwing a tantrum and will not attend the convention. It won't make much of a difference either way. The media will surely concentrate on the chaos, real or imagined, inside the building, and ignore what will surely be going on outside. The demons sense they've been given the tacit approval of their "messiah," their hero, their homeboy, to kill, maim, smash, destroy, loot, disrupt, e.g., follow their savage instincts to act like animals.
There were so many incidents over the weekend it would be difficult to document them all, given the assaults and murders of police all over the country. Meanwhile, homey#1 will be in Dallas today, to pretend like he gives two shits about the five police officers who were slaughtered by one of his white-hating disciples.
Obama to address shootings of minorities at service for slain Dallas officers

The president is renewing his focus on racial disparities in the criminal justice system and police practices in minority communities after cutting short a trip to Europe in the wake of the slayings of the officers in Dallas.
STILL BITCHING ABOUT HOW MANY NIGRAS BEING ARRESTED FOR COMMITTING CRIMES….HE CAN'T HELP HIMSELF.
NO REASON…JUST WANTED TO KILL A COP
White police officer is 'ambushed and shot in the back three times by black man during routine traffic stop'
White cop in St Louis, Missouri, pulled over man named as Antonio Taylor
Black man allegedly shot the police officer in the back as he went to his car
Taylor, 31, drove off but was caught 4 miles away after a chase, cops said
The police officer, who has not been named, is in a critical condition
Taylor has been charged with assaulting a police officer, armed criminal action and illegally possessing a firearm


COWARDLY BASTARD SHOOTS A COP IN THE BACK AS HE'S WALKING BACK TO HIS PATROL CAR. DOES HE LOOK SORRY? HELL,NO.
21 Officers Injured as St. Paul Freeway Protest Turns Violent


Hundreds of demonstrators began protesting at the Governor's Residence in St. Paul Saturday night over the police-involved shooting death of Philando Castile earlier in the week before heading onto the I-94 freeway around 8 p.m., local Fox affiliate KMSP reported.
The interstate was shut down in both directions for more than five hours and the protests eventually turned violent, with demonstrators hurling bricks, fireworks and at least one Molotov cocktail at officers, according to the St. Paul Police Department.
ST. PAUL POLICE OFFICER Breaks Vertebrae After #BlackLivesMatter Mob Drops Concrete on His Head
Over two dozen police officers were injured by Black Lives Matter protesters who took over the I-94 freeway in St. Paul, Minnesota Saturday night.
The far left mob hurled chunks of concrete, rebar, rocks, bottles, fireworks and Molotov Cocktails.

THEY JUST WANT TO KILL COPS AND BREAK SHIT UP
Black Lives Matter Protester Justifies Violence Against Police In MSNBC Interview
Black Lives Matter protester Shaena Johnson attempted to justify the actions of a fellow protester who knocked a police officer's teeth out.


LOOKS LIKE THE KIND OF LADY YOU'D TAKE HOME TO MEET YOUR MOTHER,RIGHT?
Detroit Detective Demoted After Calling BLM Protesters 'Terrorists'
IN DETROIT YOU CAN'T CALL A 'SPADE' A 'SPADE'
A Detroit detective was demoted Monday after calling "Black Lives Matter" activists "terrorists" and "racists" in a viral Facebook post.
During a news conference, police chief James Craig said the detective, Nathan Weekley, who is white, had been "downgraded" to the rank of a regular officer while the department conducted an internal investigation.
THIS IS THE POLICE CHIEF. DO YOU GET IT NOW?

MEANWHILE, BACK IN MINNESOTA
GOOD ON THESE COPS
Minneapolis Cops Working Lynx Game Walk Out Over Player Comments, BLM Warm-Up Jerseys


Four off-duty Minneapolis police officers working the Minnesota Lynx game at Target Center Saturday night walked off the job after the players held a news conference denouncing racial profiling, then wore Black Lives Matter pregame warm-up jerseys.
Lt. Bob Kroll, president of the Minneapolis Police Federation, the union that represents rank-and-file officers, praised them for quitting. "I commend them for it," he said.
NFL Player Posts Instagram Photo Showing Police Officer's Throat Getting Slit
THESE ASSHOLES MAKE MILLIONS PLAYING A GAME. WHY CAN'T THEY JUST KEEP THEIR HATRED OF THE PEOPLE WHO WATCH THEIR GAMES AND BUY THEIR JERSEYS TO THEMSELVES?


HE POSTED THIS TRASH BEFORE THE FIVE COPS WERE MURDERED IN DALLAS. HE HAS SINCE BEEN FORCED TO ISSUE THE "SORRY IF I OFFENDED YOU WHITE CRACKAS" STATEMENT. WHO THE HELL DOES THIS?
"Mood: They give polices all types of weapons and they continuously choose to kill us…(hashtag)Weak," the caption read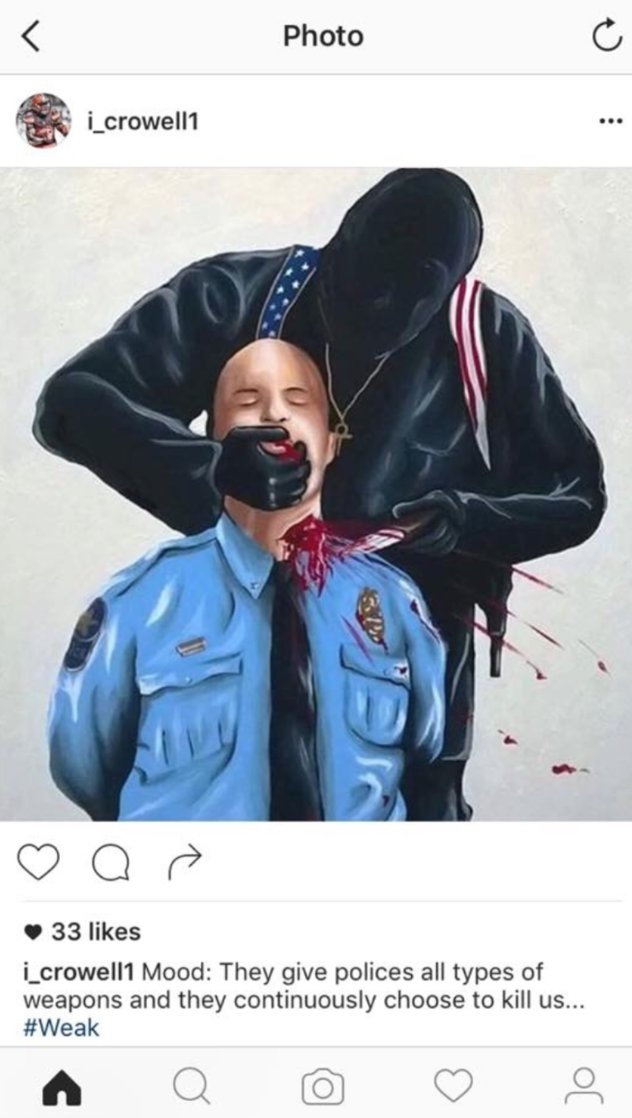 IL Man Drives Through #BlackLivesMatter Mob Blocking Road – Gives Protester Ride on His Hood
An Illinois driver hurtled through a group of Black Lives Matter protesters who were blocking the highway near Carbondale, Illinois over the weekend.
I'D HAVE DONE THE SAME THING EXCEPT I WOULDN'T HAVE STOPPED IN THE FIRST PLACE


When the protesters swarmed his car he revved his engine and drove through their roadblock.


As many as 100 protesters were setting off fireworks, chanting and marching through the streets of Carbondale, Ill. around 11 p.m. when the incident occurred.
In the video, you see the driver stop his vehicle just before the protesters. The driver gets out of his vehicle and shouts at protesters, gets back into his vehicle, revs his engine and then speeds through the group.