Since the day Barack Hussein Obama slithered into office on the premise he would heal the racial divide, his true agenda has been exposed. He hates whites, especially police, and has accused them at every turn of the wanton shooting of negroes. Emboldened by the tacit approval of their erstwhile "messiah," the murderous rabble have committed more and more acts of overt violence toward people of pallor. They hold LEOs in special contempt because they are the only constraints on the assaults, robberies, rapes, and murders they would otherwise go unpunished for.
My good friend Willie came to work this morning bellowing about all the gun violence is the fault of the NRA. He is an intelligent man but completely enthralled with the liberal ideology. To this day he blames all of Obama's failings (the few he will admit to) on the mess George W. Bush supposedly left behind. There is no trying to have a rational conversation with someone who uses emotion rather than reasoned thought when forming opinions.
Now to the nub of it:
It was an execution, committed by four bastards who used the occasion of a rally for the poor dead blacks to set up an ambush. There were four shooters, all positioned strategically to get police in a crossfire when they responded to calls of 'shots fired.'
This serves several purposes for Barry & co.
First, democrats can piss and moan about gun confiscation.
Second, Barry can play the role of ersatz peacemaker, calling for peace when he has no interest in it.
Third, and most importantly, the press can spend weeks on this chaos and relegate Crooked Hillary to page 27B.
Obama: "All Americans Should Be Deeply Troubled By Fatal Shootings Of #AltonSterling & #PhilandoCastile" Update: "Black Folk Are More Vulnerable To These Kinds Of Incidents"

CNN Already Blaming Dallas Cop Massacre On Lack of Gun Control


Dallas Police Chief: Shooting Suspect Wanted "To Kill White People, Especially White Officers" In Revenge For Recent Police Shootings


AS PREDICTABLE AS A RAINBOW AFTER A SUMMER SHOWER
Here Comes the Circus: Al Sharpton Says He's On the Way to Baton Rouge


Obama: Powerful Guns Made Dallas Ambush 'More Deadly and Tragic'


There he goes again, it's never a focus on the evil divisiveness he has encouraged, he always has to inject his agenda. He encouraged this with his statement the night before.
"When people are armed with powerful weapons, unfortunately it makes attacks like these more deadly and tragic," Obama told a press conference during a trip to Poland. "In the days ahead we're going to have to consider those realities."
READ: ONE WAY OR ANOTHER, WE'RE GOING TO GET YOUR GUNS
'Would this have happened if the passengers were white?': Minnesota governor decries police racism after cop shoots dead black man in his car
THE COP HAS ALREADY BEEN CHARGED WITH MURDER
Mark Dayton said during press conference 'this kind of racism exists'
Governor of Minnesota has called for a federal investigation


MARK DAYTON IS A BLEEDING HEMORRHOID
Some Silicon Valley tech workers are calling in 'black' to work


"Today I will give myself the space to grieve for Alton Sterling, Philando Castile, and every other black person that has been executed and all those that will be executed by the police, until we finally say enough is enough and put an end to the terrorism that we call modern day policing," wrote Baker, who has been a vocal advocate for inclusion and accountability in the tech industry.
Sometimes, I don't want to deal with the emotional weight of having to explain my feelings to someone who couldn't possibly understand them, no matter how hard they tried," she wrote.
Dallas 7-Eleven Store Looted By Black Lives Matter Protesters Who Taunted Cops After Massacre of Police Officers
"Dancing/flexing in front of a 7/11 in Dallas. Disgraceful. Is this a joke to them? A celebration? THIS IS SERIOUS"
WFAA-TV reported from the 7-Eleven that their news crew was threatened by the protesters and had to move theor vehicles after protesters poured beer and alcohol on their cars.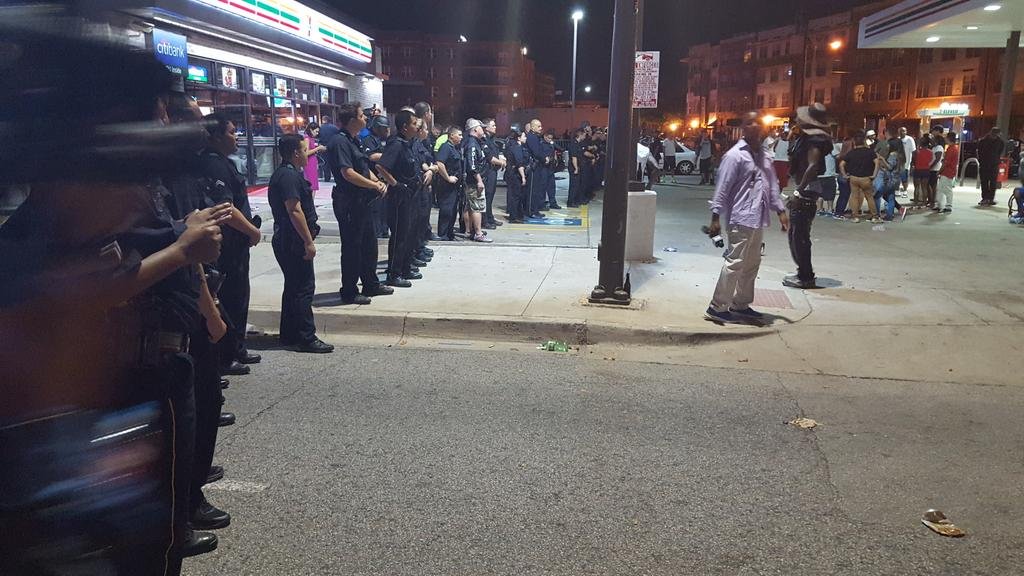 VIDEO AT LINK SHOWS THESE FERAL VERMIN LAUGHING, DANCING, AND SHOWING OFF THE STUFF THEY JUST STOLE.
A Dallas 7-Eleven store was looted and a news crew threatened by Black Lives Matter protesters after the massacre of Dallas police officers Thursday night. Incredibly, the protesters were taunting police who were called to protect the store.
Dem Rep. John Lewis Heckled For Telling Anti-Police Protesters To "Be Peaceful"


WHEN DID THE BLACK PENIS EVER CARE ABOUT WHITE PEOPLE? DID I MISS SOMETHING?
Rock band instantly turns 'punk': Trump & cops supporters 'not welcome' at concerts
The rock band Wavves does not want to see supporters of Donald Trump, the police, or #AllLivesMatter at any of their shows.
"I don't want everyone at my shows to be a clone of each other," the band's Nathan Williams said in a statement released on Instagram and Twitter on Wednesday. "However in light of the constant rape, murder, racism, homophobia, and misogyny that goes on seemingly every day I feel the need to make clear who I personally make music for, and who I don't."
WHO THE HELL ARE THE WAVVES? NEVER HEARD OF 'EM.
THESE ARE THE ONLY WAVES I'VE EVER HEARD OF
Katrina & The Waves – Walking On Sunshine