"Strangers are just friends I haven't met yet." –Will Rogers
If I had the technical wherewithal I'd like to put that in the margin. But I don't. And it's frustrating as hell.
MISSED OPPORTUNITY: NEO-NAZIS AND COMMUNISTS CLASHED IN SACRAMENTO… AND THEY'RE ALL STILL ABOVE GROUND
400 anarchists in black masks fight white nationalists – 10 stabbed, multiple beatings
The Capitol building remained on lockdown three hours after the fight. California Assemblyman Jim Cooper told the LA Times that Capitol employees took refuge inside the building's basement during the melee.
It wasn't entirely clear which group had the most wounded, but one neo-Nazi broadcasted online that "they got one of ours but we got six of theirs." TWP chairman Matthew Heimbach confirmed that one of their protesters had been stabbed in an artery and six "anti-fascists" had also been stabbed.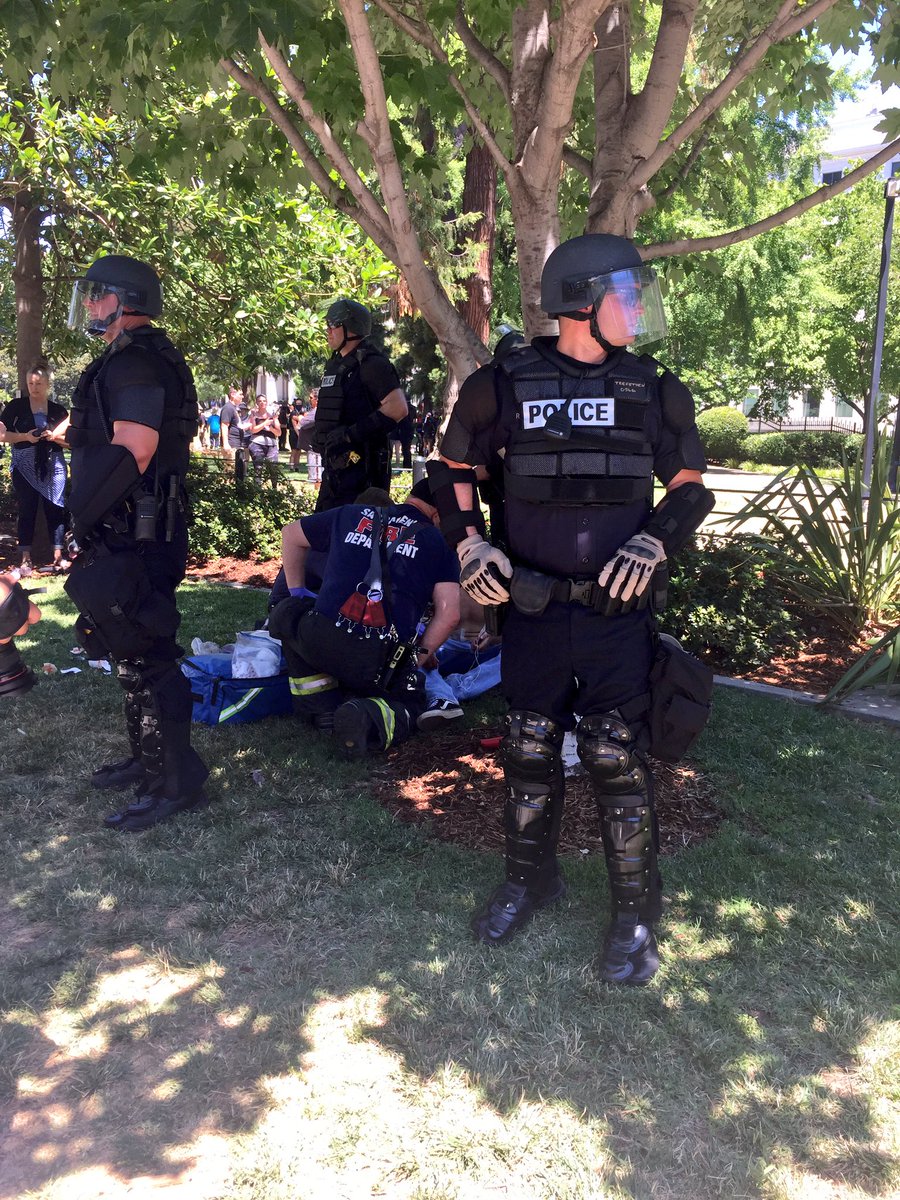 MEANWHILE, AT THE OTHER END OF THE COUNTRY:
Hillary Clinton marches in NYC Pride Parade
Granny Pantsuit, galpal Hummus A'beddin' in tow, crashed the NYC gay parade with race huckster Al Sharptongue and the guy who's governor because of his famous last name. They marched for about 20 minutes, then disappeared into the Scooby van without talking to the press. What, are you kidding me? Of course,there were heavily-armed Secret Service protecting them.
Duckworth Settles Workplace Retaliation Case to Avoid Testifying


THIS IS THE CREATURE WHO WILL CRUSH UBER-RINO MARK KIRK AND HELP THE DEMS REGAIN THEIR MAJORITY IN THE SENATE. HER ONE AND ONLY BONA FIDES IS THAT SHE LOST HER LEGS IN IRAQ, LIKE THOUSANDS OF OTHERS WHO DID NOT SEEK AN EASY POLITICAL CAREER. SHE PLAYS IT LIKE LURCH KERRY USED HIS 4 MONTH SOJOURN IN VIETNAM TO SET HIM UP FOR LIFE.
The state was forced to pay $26,000 to settle the years-long case against Duckworth.
Duckworth, who is battling to unseat Sen. Mark Kirk (R., Ill.) this November, was accused of silencing state whistleblowers by humiliating them, giving them poor performance reviews, and eventually terminating the employees.
Mayor Carjacked At Gunpoint In City Where Trayvon Martin Was Dispatched With The Taxpayer Relief Shot


Mayor Jeff Triplett was outside around 2:15 a.m. Saturday when three men approached, pointed a gun at him and stole his car keys, police said. They told reporters the suspects also stole Triplett's wallet before driving off in his Mercedes.
QUESTION YOU'LL NEVER HEAR THE MEDIA ASK:
'WHAT IS A MIDDLE-AGED WHITE MAN DOING IN A BLACK HIGH-CRIME AREA AT 2:00AM?'
I THINK THE ANSWER IS OBVIOUS (COUGH..DRUGS) (COUGH..DRUGS)

Democrat Congressman Admits Gun Control "Sit-In" A Political And Fundraising Stunt…
QUICK…CALL CAPTAIN OBVIOUS

Baltimore rioter who burned CVS gets sentence from judge–and it wipes the grin right off his face

One of the men responsible for the destruction in Baltimore during the Freddie Gray riots last year just learned his fate.
Donta Betts, 20, was one of the worst rioters, according to prosecutors who claim he set fires, looted and attacked police, CBS Baltimore reported.On Friday a judge sentenced him to 15 years for his role

BUT…BUT…RACISM AND STUFF
Betts did it all "from throwing rocks to destroying police cars, starting fires, stealing from pharmacies," Rosenstein said.
According to prosecutors Betts confessed to his part in the riots when he explained to them "I did all this because that was my period to go wild on police."
Months after the riots Betts even shot a woman over a $20 drug deal dispute, according to CBS Baltimore
Benghazi Panel Blasts POTUS for Taking Questions From Derek Jeter and Not Them

IT'S REALLY EASY… THEY CAN'T HIT A CURVE BALL… AND THEY AIN'T COOL LIKE THAT.
HE'S BEEN PISSING ON CONGRESS FOR ALMOST 8 YEARS AND HAS NO PLANS TO CHANGE
It's no surprise President Obama would rather take questions from Derek Jeter than answer questions for the American people about the Benghazi terrorist attacks, which followed what he himself has called his worst mistake
Obama would be apt to remember he is our commander-in-chief first, not a celebrity.
GRANNY: YOUR HOLE IS BIGGER THAN MINE
SO'S MY BANK ACCOUNT, YOU LITTLE TRAMP