Given the ameteurish rollout and the absurdity of the media chasing after the lying tramp like a bunch of redbone hounds after a raccoon it occurred to me this could be the best thing to happen. People will be so sick of her in awhile that most people will just turn off.
All I know for sure is the NFL draft starts two weeks from today and I'll be grateful for the distraction.
CHIPOTLE CHEAPO! Hillary Fails To Tip After Paying (UPDATE) NOT THE FIRST TIME!


Hillary must still be struggling to pay her mortgages, or perhaps her mega-carbon footprint deluxe limo "van" needs to conserve gas money, because she failed to tip at Chipotle!
Her "spontaneus" moment of ordinary American behavior cost her campaign just over $20. She paid with $21 and kept the change.
With cheapos like Hillary, maybe they do need to raise the minimum wage to $15.
In all fairness, under Obama, $275,000.00 per speech doesn't quite stretch as far as it used to.
From 2007
Anita Esterday, a waitress at the Maid-Rite in Toledo, Iowa, told NPR's David Greene in a report that aired on Morning Edition Thursday that "nobody got left a tip" on Oct. 8, when Clinton sat at the lunch counter and ordered up the restaurant's famous loose-meat sandwich.
Esterday served Clinton, chatted with her and later ended up as an example of a hard-working single mom in Clinton's stump speech. She told NPR she's considering voting for Clinton, but was disappointed the senator and her staff didn't make sure she got a tip for her labor.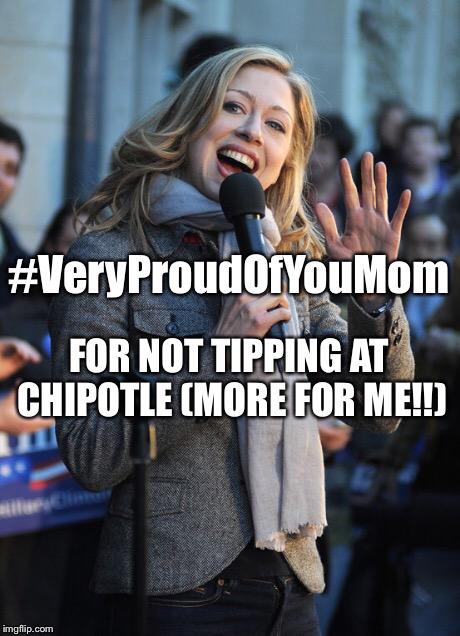 http://www.thegatewaypundit.com/2015/04/chipotle-cheapo-hillary-fails-to-tip-after-paying/#ixzz3XV6quJar
ONE PET PEEVE OF MOST PEOPLE IS SOMEONE PARKING IN A HANDICAP PARKING SPOT
WHAT A P.R. DISASTER THIS IS
Entitled: Hillary Clinton Parks In Handicap Spot


Although there appears to be an open spot directly in front of her, one stop along Hillary Clinton's road trip was in a handicapped parking spot.
Rules are for little people.
http://www.breitbart.com/big-government/2015/04/16/entitled-hillary-parks-in-handicap-spot/
Campaign staff DROVE 'ordinary' Iowans to Hillary's first campaign stop – including health care 'lobbyist in training' who was an Obama campaign intern and Biden chauffeur
Austin Bird sat for coffee on Tuesday morning in the town of LeClaire, Iowa, chatting with Hillary Clinton as photographers snapped pictures
News reports called him a 'student' and her campaign called it an unscripted event
But Clinton's Iowa political director Troy Price drove Bird and two other people to the coffee house
Bird is a hospital government relations official who interned with Barack Obama's 2012 presidential campaign
The Iowa Democratic Party, which Price ran until a month ago, tasked him to be Joe Biden's driver during an October Senate campaign trip in Davenport

http://www.dailymail.co.uk/news/article-3040482/Campaign-staff-DROVE-ordinary-Iowans-Hillary-s-campaign-stop-including-health-care-lobbyist-training-Obama-campaign-intern-Biden-chauffeur.html#ixzz3XVBRJpVB
THIS IS NO SURPRISE:
Clinton Foundation Will Continue To Take Money From Foreign Governments While Hillary Runs For President
WHAT A PERFECT PICTURE OF THE REAL HRC


http://www.foxnews.com/politics/2015/04/16/clinton-foundation-to-keep-accepting-donations-from-foreign-governments/
Another Massive Crowd Of "Everyday Americans" Welcomes The "Scooby Van" To Iowa…
Yes, five people is pitiful, but it's more than double the last group we saw

Clinton Dodges MSNBC Reporter's Question on What She'll Do Differently Than In 2008
MSNBC's Kristen Welker to Hillary Clinton: You lost here in Iowa in 2008, what do you plan to do differently to win?
Clinton ignores the question–

Book detailing Clinton White House drama is No. 1 on NYT best-seller list
According to Brower, though Hillary stood by her husband in public, behind the closed doors of the residence staff members frequently heard the Clintons shout at one another. At one point, a rumor circulated among staff that Hillary had thrown a lamp at Bill.
http://www.politico.com/story/2015/04/bill-clinton-hillary-clinton-book-117016.html#ixzz3XVEQh7XN