It's pretty commonly known to those of us with more than a spoonful of functioning brain cells that the left is populated by nuts. Not a little nuts, but full-goose, frothing at the mouth, veins bulging from the neck, spittle-flying madness. Now they're claiming the whole Memories Pizza outrage was fabricated. They just never stop.
Leftist Moonbats Now Claiming The Memories Pizza Attack Was An Elaborate Fundraising Ploy…
Sometimes the Moonbats can really make you laugh. Their attack against the Indiana mom and pop pizza shop failed miserably. 20,000+ people donated money to offset any financial impact. The fundraising is so successful it is being stopped tonight at 7pm. Over $600,000 has been raised.

http://www.gofundme.com/Memoriespizza
Pizza owners 'in hiding' after saying they would not cater a gay wedding go on TV to say they've raised over $500k and that they'll 'reopen soon'
Despite 'keeping a low profile' Crystal O'Connor and her father Kevin O'Connor went on Fox News to discuss their controversial comments
Crystal, who told a reporter that she would not cater a gay wedding, revealed on Thursday she has never catered any wedding
When asked if they'll re-open Kevin said he initially shut down because he 'couldn't tell if they were getting real orders'

http://www.dailymail.co.uk/news/article-3024558/Indiana-pizza-shop-owners-hiding-donations-pour-in.html#ixzz3WHHp5huZ
Liberal Activist Threatens to Rob Christian-Owned Pizza Shop Over Religious Freedom Act
The Founder & Executive Director of Indiana-based Red Giant Union has allegedly threatened to rob a Christian-owned pizza shop in Indiana because he despises their Christian religion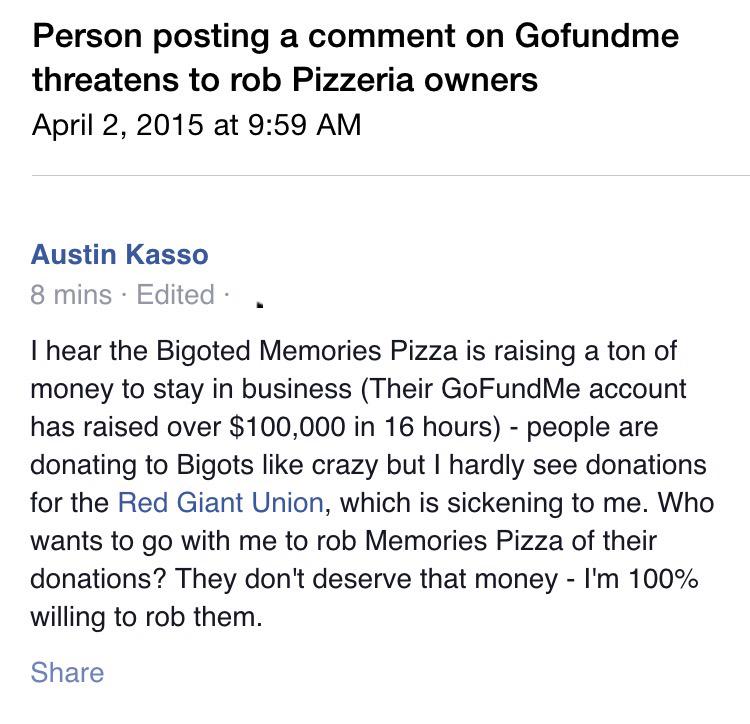 http://rightwingnews.com/democrats/liberal-activist-threatens-to-rob-christian-owned-pizza-shop-over-religious-freedom-act/
Liberal Pizzeria Truthers Think Owners of Indiana Pizza Joint Orchestrated Firestorm to Profit from Online Donations…
The Memories Pizza master plan:
1) Open pizzeria in Walkerton, Indiana.
2) Have illuminati secretly orchestrate state to pass religious freedom law.
3) Invite local news reporter to ask them about it.
4) Have 3,000 Jews order pizza before story is reported.
5) Influence liberal media into misreporting what they said.
6) Coax liberal media into wildly misreporting what they said.
7) Have their Blaze patsy Lawrence Billy Jones III start GoFundMe campaign.
8) Watch the money pour in!
http://weaselzippers.us/219513-liberal-pizzeria-truthers-think-owners-of-indiana-pizza-joint-orchestrated-firestorm-to-profit-from-online-donations/
Gays and Leftists Are Infuriated That "Gays Are the New ISIS" is trending on Twitter
http://iotwreport.com/?p=280638#S6JlRAV3lwZ4VL41.99
It's all fun and games when leftists and lefty politicians call the TEA party terrorists when the TEA party has never threatened anyone's lives.
Memories Pizza has gotten death threats from the imbecilic left because they will not go along with the gay mafia's Sharia law.
I was as tolerant as the next person, but I'm getting angrier and angrier with this notion that gay marriage must be celebrated or your life is destroyed.
CBS Affiliate Employee Being Investigated for Bogus Fraud Report against 'Memories Pizza'

Alix Bryan, a social media employee with WTVR-TV, the CBS affiliate in Richmond, Virginia, is being investigated by station management for filing a false fraud report to GoFundMe against Memories Pizza, a spokesman told The Gateway Pundit on Friday.
Over $700,000 has been raised in just a few days to help the family-owned business that has temporarily shut down after being harassed by totalitarian gay-rights supporters outraged the store said in a gotcha TV interview that in theory it would not cater a gay wedding because of their religious beliefs.
Bryan posted to Twitter on Wednesday evening she was filing a fraud complaint with GoFundMe "just in case."
When challenged for filing a fraud complaint based on no evidence, Bryan said "that is totally acceptable to do" and that had she looked in to the matter after she filed her complaint.
http://www.thegatewaypundit.com/2015/04/cbs-affiliate-employee-being-investigated-for-bogus-fraud-report-against-memories-pizza/
CROWDER DOES IT AGAIN
HIDDEN CAM: #GayWeddingCakes at Muslim Bakeries?

IT'S SPELLED H-Y-P-O-C-R-I-S-Y.
bluebird of bitterness adds: