Just kidding. I never have,never will waste a minute of the precious little time I have left of my life watching a bunch of posers with overinflated egos and way too much time on their hands indulge themselves in an orgy of self-congratulations and espousing their favorite liberal propaganda for the entire world to be awed by their awesomely awesome awesomeness. I perused the interwebs for some stuff about the gala this past evening,and the UK Telegraph had an orgy of coverage. I'm trying to do this like CtH or Grunt would post this. No promises. Regular stuff in reply section.
IN CASE YOU'RE INTERESTED:
2015 Oscars: The Complete Winners List
AND THE OSCAR GOES TO: AMERICAN SNIPER…..FOR BEST SOUND EDITING

http://awards.yahoo.com/post/111802059322/2015-oscars-the-complete-winners-list
Hollywood Actress: 'American Sniper' Was Snubbed Because of Clint Eastwood's Speech at RNC
Elisabeth Hasselbeck: How pervasive are politics in Hollywood right where we can't even watch the Oscars? Everybody has their freedom of speech but you would think there would be some who feel a different way now. Are there some being silenced?
Stacey Dash: Oh yeah, being silenced. And I think they are so chummy with this administration. They love it so much…
http://www.thegatewaypundit.com/2015/02/hollywood-actress-american-sniper-was-snubbed-because-of-clint-eastwoods-speech-at-rnc-video/
HE CAN GET AWAY WITH IT….CASTRO'S HIS BUDDY
Sean Penn at Oscars: 'Who Gave This Son of a B*tch a Green Card?'

When Sean Penn announced that the Best Picture Award would go to Birdman, he lead into the announcement with a racial joke. "Who gave this son of a b*tch a green card?" asked Penn in reference to the film's director, Mexican writer/director/producer Alejandro G. Inarritu.
http://www.truthrevolt.org/news/sean-penn-oscars-who-gave-son-bih-green-card
Moonbat Actress Patricia Arquette Goes On Feminist Rant During Academy Award Acceptance Speech…

To every woman who gave birth, to every taxpayer and citizen of this nation. We have fought for everybody else's equal rights. It's our time to have wage equality once and for all, and equal rights for women in the United States of America," she said.
http://www.politico.com/story/2015/02/patricia-arquette-oscars-115412.html#ixzz3SayP11Wa
Valerie Jarrett Praises Oscar Winner Patricia Arquette For Equal Pay Speech
While Meryl Streep and Jennifer Lopez were leaping out of their seats to endorse Oscar Winner Patricia Arquette for using her acceptance speech to highlight the issue of equal pay for women, President Obama's most trusted senior advisor endorsed the message as well.
"Congrats @PattyArquette!," Valerie Jarrett tweeted shortly after the speech. "Thx for using your speech to advocate for #EqualPay and for understanding that when women succeed, America succeeds."
5 moments when politics took center stage at the 2015 Oscars
1) Racial diversity
Politics took center stage right off the bat, when host Neil Patrick Harris referred to the #OscarsSoWhite debate.
"Tonight we honor Hollywood's best and whitest — sorry, brightest," he said, an ode to the controversial fact that the year's acting nominees were all white
2) Gender pay gap
The comments were likely sparked by the email hack on Sony Pictures that revealed Jennifer Lawrence and Amy Adams made significantly less than their male co-stars.
3) Selma
Singer John Legend brought up voting rights, the incarceration rate of black men and Selma in his acceptance speech for his song "Glory" with Common from the movie "Selma."

4) Snowden's Oscar
"CITIZENFOUR," which focuses on National Security Agency whistleblower Edward Snowden, won for best documentary feature. Snowden's girlfriend, Lindsay Mills, joined director Laura Poitras, producer Dirk Wilutzky and journalist Glenn Greenwald onstage to accept the award.
"The subject of 'Citizenfour,' Edward Snowden, could not be here tonight for some treason," Neil Patrick Harris said to laughs as the winners walked offstage.
5) Sean Penn's Immigration Joke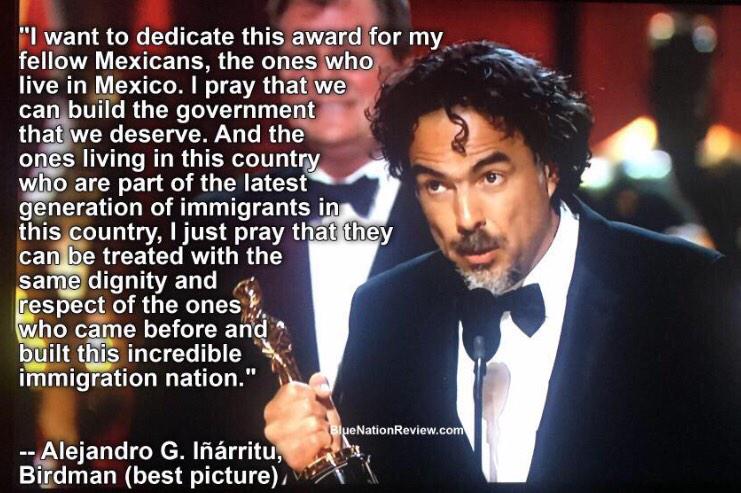 http://www.washingtonexaminer.com/5-moments-when-politics-took-center-stage-at-the-2015-oscars/article/2560558
GASP!!!
Ohio News Anchor on Oscars: All That "Jigaboo Music"
Well, here's one opinion.
Kristi Capel from FOX8 in Ohio critiqued Lady Gaga's performance at the Oscars last night
"You couldn't really hear her voice with all that 'jigaboo' music, that 'jigaboo' whatever you want to call it."

http://www.thegatewaypundit.com/2015/02/video-ohio-news-anchor-critique-of-oscars-all-that-jigaboo-music/
Neil Patrick Harris blunders with a joke after winner dedicates award to her son who committed suicide and then parades in his underwear
He made an ill-timed joke about Dana Perry's dress featuring furry spheres after she dedicated Oscar win to her son who had committed suicide
The host spoofed Birdman by coming on stage in nothing but Y-fronts

http://www.dailymail.co.uk/tvshowbiz/article-2959076/Oscars-Neil-Patrick-Harris-makes-ill-timed-joke-winner-dedicates-award-son-committed-suicide.html#ixzz3Sb1KghGl
And the award for most obscure shortlist goes to… Oscars accused of snubbing popular movies in favor of films that fit the tastes of Hollywood judges
Box office performance of best picture nominees was just $605million
Figure would have been lower without American Sniper, which took $312m
This year's winner, Birdman, took a measly $36million at the box office
DIDJA CATCH THAT PART?
http://www.dailymail.co.uk/news/article-2965127/And-award-obscure-shortlist-goes-Combined-takings-Oscar-nominations-best-picture-year-modern-era-awards-ignore-movies-public-paying-see.html#ixzz3Sb44Ffgw
Director of snubbed 'Selma' asked protesters NOT to target Oscars for a lack of diversity
Ava DuVernay requested that the Los Angeles chapter of National Action Network not protest
The organization agreed to cancel a planned rally in exchange with meeting with two Academy of Motion Picture Arts and Sciences executives
A PLANNED PROTEST OF THE UNBEARABLE WHITENESS OF BEING WAS CALLED OFF WHEN THE HOI POLLOI AGREED TO MEET WITH BROTHER AL AND HIS MERRY BAND OF NEGROES. THE FACT SECRET-SERVICE TRAINED LAPD SNIPERS WERE POSTED AROUND THE THEATER MAY HAVE HAD SOMETHING TO DO WITH IT. JUST SAYIN'
http://www.dailymail.co.uk/news/article-2964679/Director-snubbed-Selma-asks-organizers-cancel-protest-lack-diversity-Oscars-Neil-Patrick-Harris-lampoons-best-whitest.html#ixzz3Sb5K9n94
American Sniper: Carrying Her Husband's Dog Tags, Taya Kyle Stuns at the Oscars
Taya Kyle, the widow of American Sniper and Navy SEAL Chris Kyle, stunned at the Oscars last night in Hollywood. She arrived on the red carpet in a beautiful green dress, carrying her husband's dog tags.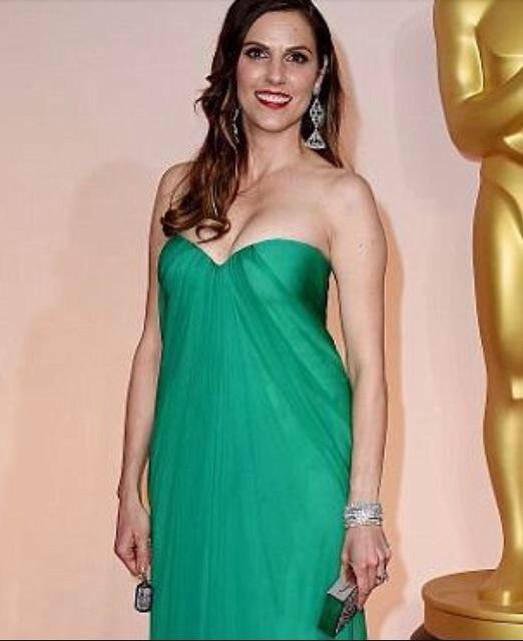 http://townhall.com/tipsheet/katiepavlich/2015/02/23/holding-her-husbands-dog-tags-taya-kyle-stuns-at-the-oscars-n1961005
Red carpet risks that DIDN'T pay off: From Lady Gaga to Solange Knowles, the WORST-dressed stars at the Oscars
Lady Gaga wore a crocodile-textured Azzedine Alaïa frock – his first for Oscars
Solange Knowles turned up looking like she was wearing the red carpet
Boyhood's Lorelei Linklater left outfit choice to last minute – and it showed
I INCLUDED THIS LINK FOR THOSE WHO ARE INTERESTED IN FASHION AND WHAT THE NOUVEAU RICHE ARE WEARING THESE DAYS. I'M CONVINCED IN THE NEAR FUTURE SOMEBODY'S GOING TO SHOW UP IN A G-STRING AND PASTIES. ONE OF THEIR OLD WORK OUTFITS,NO DOUBT.
LADY GAGA: NICE TATS

SOME SINGER NAMED SIA. NO,I NEVER HEARD OF HER EITHER. DOES SHE HAVE ELEPHANT MAN SYNDROME?

MANY,MANY MORE PHOTOS.YOU GET THE IDEA.
HAD TO THROW THIS ONE IN:

http://www.dailymail.co.uk/femail/article-2964465/The-Oscars-2015-red-carpet-s-worst-dressed.html#ixzz3Sb7ZLZpc